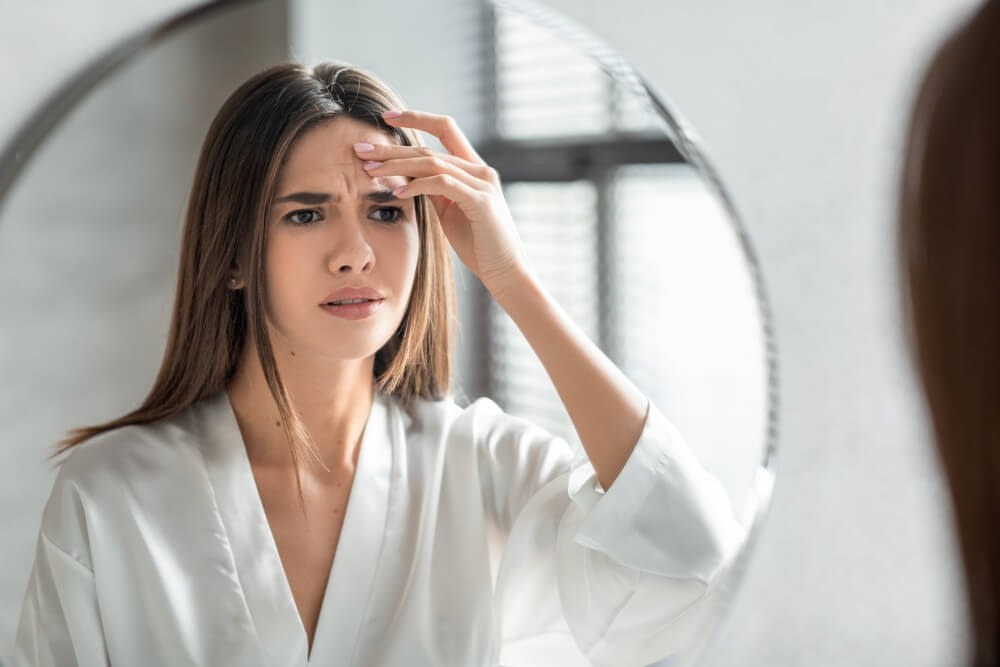 Forehead wrinkles form as we age. However, aging isn't the only cause behind forehead wrinkles — there are other factors that play into this, not just time!
Many people dislike having facial lines, so you're not alone if you want to get rid of yours. Thanks to the wonders of modern science and technology, we can reduce the appearance of those lines.
Want to know how to treat the appearance of forehead wrinkles? Then you've come to the right place!
Here's the deal:
There are numerous claims online about how to treat forehead wrinkles, but most of them do not work. But don't fret! Introlift has compiled a solid list of methods to help you achieve that soft and smooth-looking skin we all aspire to have.
What Causes Forehead Wrinkles?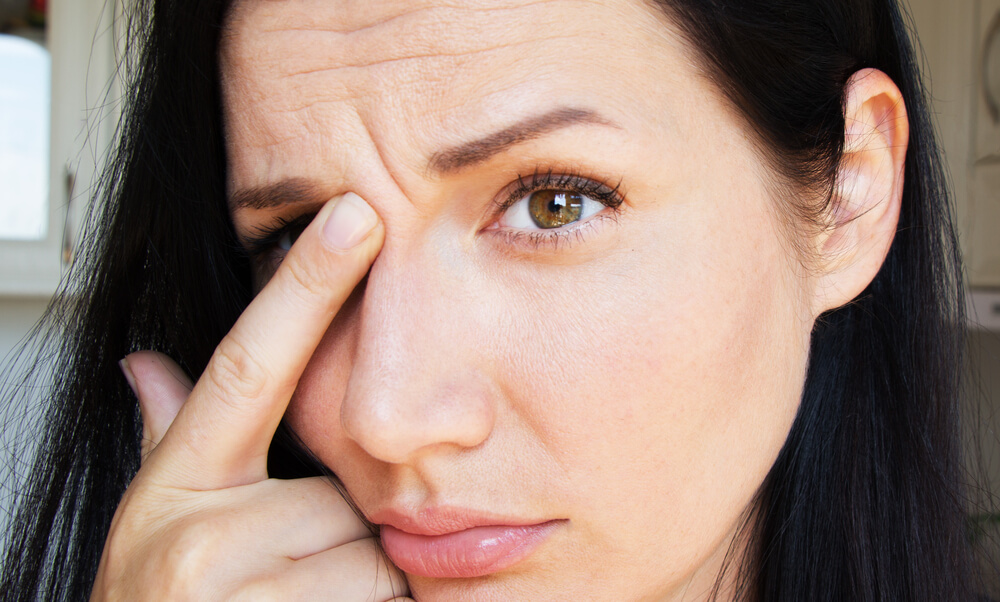 Before we get into how to treat forehead wrinkles, it's essential to understand what causes them in the first place. Facial lines can result from many things, age being the most common. Your skin becomes more fragile as you age. This is because your body starts to produce fewer proteins that keep your skin looking smooth, plump, and youthful. These proteins are:
Collagen

— gives structure to your skin and keeps it from sagging

Elastin

— provides elasticity to your skin, allowing it to bounce back in place
With age, your body also decreases its production of the essential oils that fight dryness, and you observe fewer fatty cells under your skin. All those factors combined make way for skin that's a bit looser, more fragile, and has more pronounced lines. These oils and fatty cells are what make your skin look plumper and more youthful, so losing them can cause wrinkles to appear.
Smoking and sun exposure can also cause the appearance of wrinkles. Nicotine and other components of cigarettes reduce oxygen flow in your body and prevent nutrients from being supplied to your skin. This means smoking can cause even more problems for you in addition to forehead wrinkles. 
Conversely, sun exposure damages your skin directly. UVA rays also give rise to premature aging of your skin by damaging the DNA of your skin cells. When you don't protect yourself from the sun, your skin can develop wrinkles.
There's more:
Frequent frowning can also cause forehead lines. Your skin remembers the expressions you make regularly, and the physical wrinkling caused by a furrowed brow can remain. Remember to turn that frown upside down!
How to Treat Forehead Wrinkles
While forehead wrinkles might seem unavoidable, there are ways to decrease their appearance. From injectables to facial treatments and skincare products, there are many options nowadays to bring your wrinkle-free complexion back. If you want to treat forehead wrinkles, here are the best ways you can do so:
Botox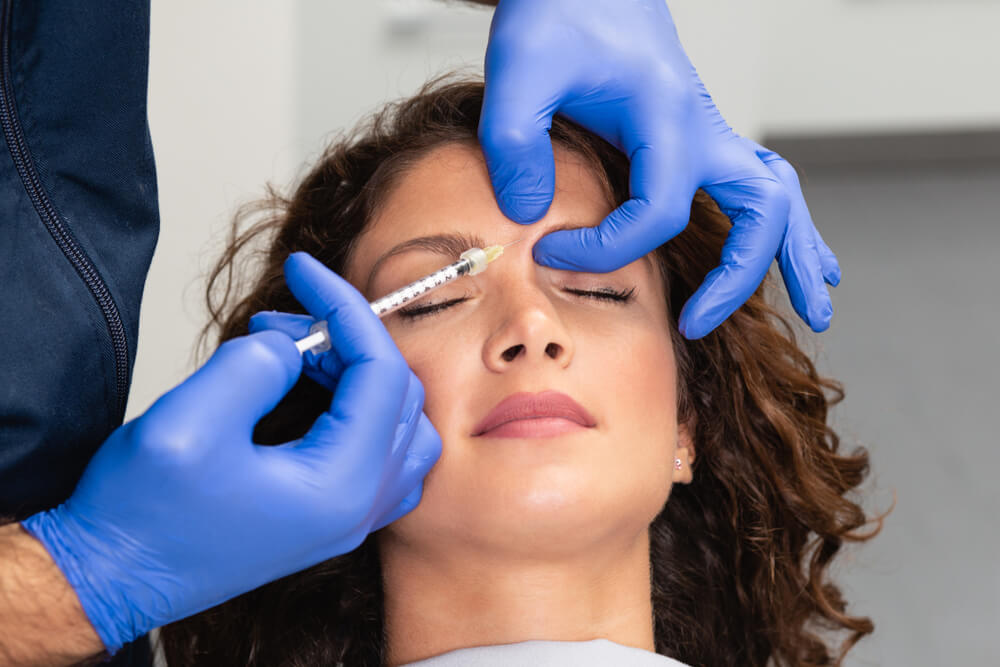 If you Google how to treat forehead wrinkles, Botox will almost certainly be one of the first results. Botox helps decrease the appearance of forehead wrinkles by temporarily relaxing the muscles underneath your skin. In turn, the skin on your forehead will appear smooth. 
During a Botox session, your provider will administer the injection carefully to the target area. There's no downtime for the procedure, so you can go back to your daily routine right after the injection. 
You will typically observe a diminished appearance of forehead wrinkles after a few days, although it's possible the full results take a week or more to appear. The effects may last up to six months before you have to go back to your medical spa for touch-ups.
Facial Fillers
Facial fillers, also called dermal fillers, reduce the appearance of forehead lines by providing a temporary lifting effect. Your wrinkles get lifted for as long as the fillers work, giving your skin a smooth and plump appearance. These fillers have gel-like consistency and typically contain FDA-approved substances, like:
Hyaluronic acid

Poly-L-lactic acid

Calcium hydroxylapatite

Polymethylmethacrylate
These four fillers are all safe for skin application. However, not all products are made equal. Dermal fillers vary per brand or clinic. You should consult with your provider to find out what they have and what works best for you.
You can return to your daily life immediately after getting fillers. However, your provider may recommend you forgo intense activities for 24-48 hours. Fillers work quickly, but the exact recovery time still varies from person to person and the type of filler used. It may also take up to two weeks for the substance to integrate into your tissues and show full results.
Facial Treatments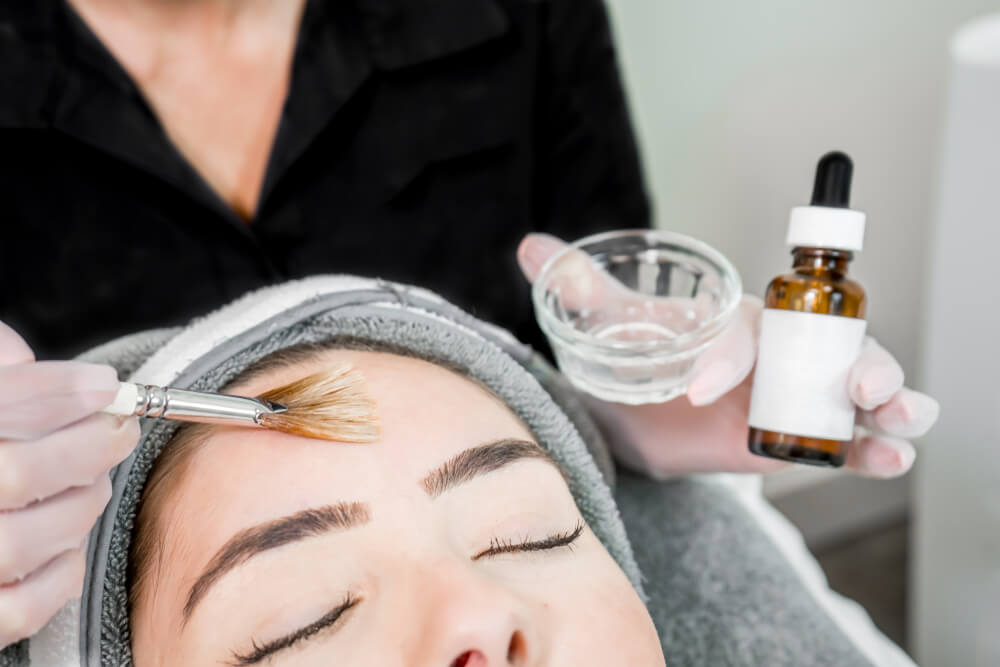 Facials are a popular method for decreasing the prominence of forehead wrinkles. There are many kinds of facials out there, so you have to know which one suits your needs. When it comes to reducing the appearance of wrinkles, we recommend two of Introlift's best facial treatments, the 24K Nano Gold Recovery Facial and the Introlift Pre-Event Facial Featuring DMAE Filler.
The 24K Nano Gold Recovery Facial uses three treatments and technologies to help give you smooth skin. These include: 
Light chemical peel

– removes the topmost layer of your skin, the epidermis. 

Radiofrequency or ultrasound treatment

– gives your face a temporary lifting effect.

LED therapy

– uses targeted heat application to improve the skin's appearance.
These technologies can make your skin look visibly younger and smoother. You can go back to your usual activities if you're okay with the peeling process, but you may need to avoid heavy activities for a few days to avoid swelling and redness. 
The second facial we have that's perfect for reducing the appearance of forehead wrinkles is the Introlift Pre-Event Facial Featuring DMAE Filler. Dimethylethanolamine, also known as Deanol or DMAE, is a compound that can help diminish the look of facial lines. DMAE can give you a smooth finish and a temporary lifting effect.
Like the 24K Facial, the Pre-Event Facial combines a light chemical peel, radiofrequency treatment, and LED therapy. Combined with a DMAE filler, this facial can be your go-to if you want to achieve younger-looking skin, especially for special events. 
Other Treatments
Aside from facials, you can decrease the appearance of forehead wrinkles with the help of other treatments. Introlift offers two more procedures to help you get smoother and younger-looking skin.
Pre-Event 60 Seconds Face-Lift
The Pre-Event 60 Seconds Face-Lift is the perfect way to achieve visibly smoother-looking skin in a short time. It is safe and pain-free — instantly giving your skin a temporary lifting effect. You can get this treatment if you need a quick fix, especially before a special event. The results can last for as long as 10 hours or until you wash your skin. 
Venus Legacy Face
Last but not least, the Venus Legacy Face is another treatment that can help reduce the appearance of your forehead wrinkles. This procedure uses heat to give your skin a soft, smooth, and youthful look.  If the target area is your forehead, each session should only take around 15 minutes. Usually, clients need about six to ten sessions over a few months to see full results.
How to Know Which Treatment Will Suit You Best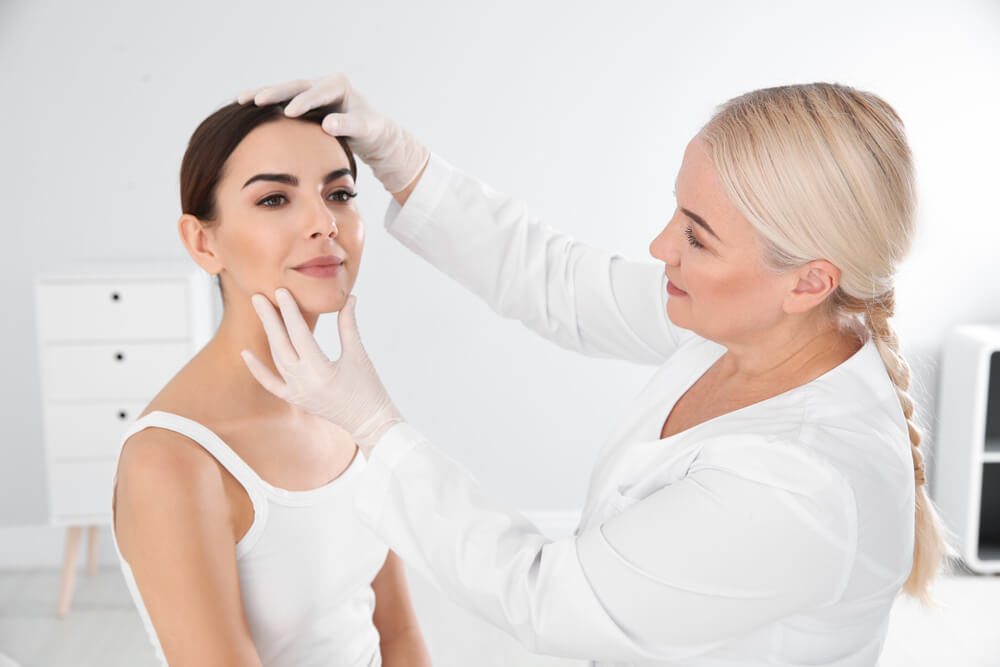 Each treatment we've mentioned has its benefits. They also come at different price ranges, durations, downtime, and recovery period, so it's up to you to choose what fits you. You can always ask your dermatologist or esthetician for advice and information. During the consultation with your provider, don't forget to mention if you have or are undergoing:
Underlying health conditions

Prescribed medications 

Allergies

Pregnancy or lactation
They'll also consider your goals, current skin condition, and other considerations before recommending a procedure. For best results, always follow your provider's directions for pre-treatment and post-treatment care.
Preventing Forehead Wrinkles
 Prevention is key to reducing the appearance of forehead wrinkles. Consistent, daily care is vital when it comes to taking care of your skin too.
A few preventative measures that you can incorporate into your skincare routine include:
Use a Sunscreen
Harmful UV rays can cause premature aging in your skin, leading to pronounced forehead wrinkles. They cause direct damage to your cells and their structure, which can make it difficult for your body to repair damage. To prevent damage from UV rays, it's best to wear sunscreen every day and protect your skin from harmful sun exposure. If you spend a lot of time in the sun, remember to reapply it according to the instructions.
It would be best to choose a "broad-spectrum," sunscreen with at least 30 SPF ("sun protection factor").  "Broad-spectrum" sunscreen protects you against both UVA and UVB rays. UVA rays can cause premature skin aging, while UVB rays can damage skin cells and burn your skin. For additional coverage and protection, opt for a higher SPF.
There are many different types of sunscreen available on the market, so be sure to choose one that suits your skin type. Protection from harmful UV rays should not compromise your comfort.
If you have dry skin, look for sunscreen products that contain hydrating ingredients. If you have oily or acne-prone skin, it would be best to opt for a non-comedogenic brand. Non-comedogenic means the product won't clog your pores. Even while wearing sunscreen, you should avoid direct and prolonged sun exposure. If you can't avoid it, use an umbrella, a wide-brimmed hat, or some other way of creating shade.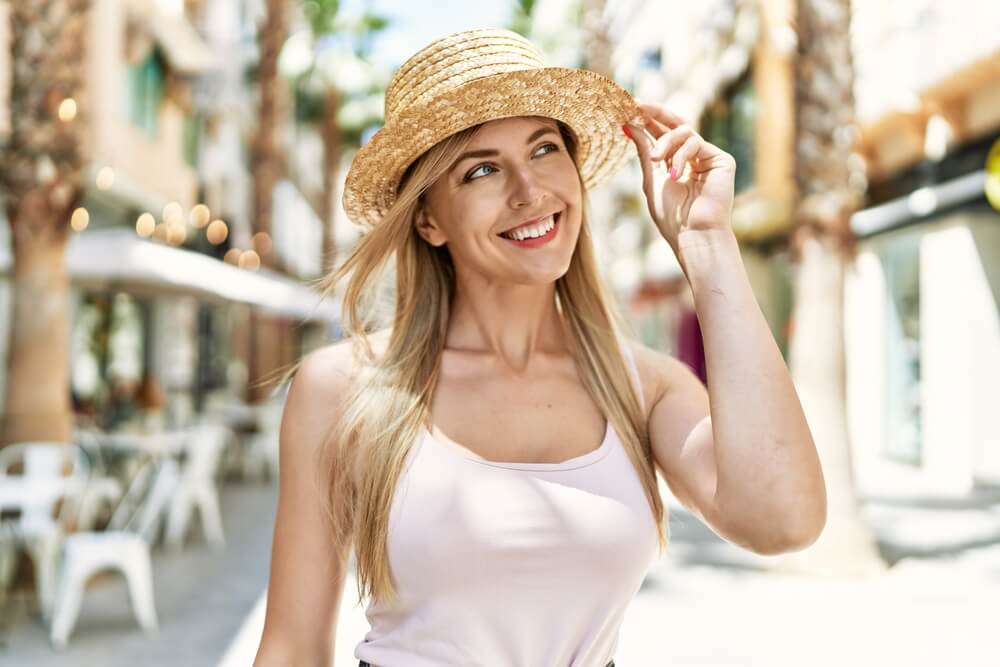 Manage Your Stress
When you're stressed, your body experiences a rush of chemical reactions. They aren't bad for you if they happen sparingly. If you are frequently stressed, your stress hormones may affect your skin's elasticity and its ability to protect itself from damage.
Avoid Smoking
Smoking can cause premature skin aging in your skin – not to mention several other health problems. If you want to prevent early onset forehead wrinkles and facial lines, avoid smoking.
Stay Hydrated and Eat a Balanced Diet
While hydration and diet won't affect your wrinkles directly, your overall health and well-being affects the appearance and condition of your body. If you eat well and keep yourself hydrated, you help your body stay healthy. Opt for a balanced diet that's packed with nutritious options. You may also want to stick to water instead of sugary and flavored drinks.
Use Targeted Skincare Products
Targeted skincare products can help you reduce the appearance of lines on your forehead if they contain special ingredients like the following:
Retinol, a type of vitamin A

Antioxidants like green tea, vitamin C, and vitamin E

Hyaluronic acid

Niacinamide or vitamin B3

Peptides, and

Hydroxy acids like salicylic acid and glycolic acid
Follow your dermatologist's instructions or the directions on the product package. If used correctly, skincare products can help your skin look visibly younger. Be careful when using skincare products, especially if they have harsh ingredients.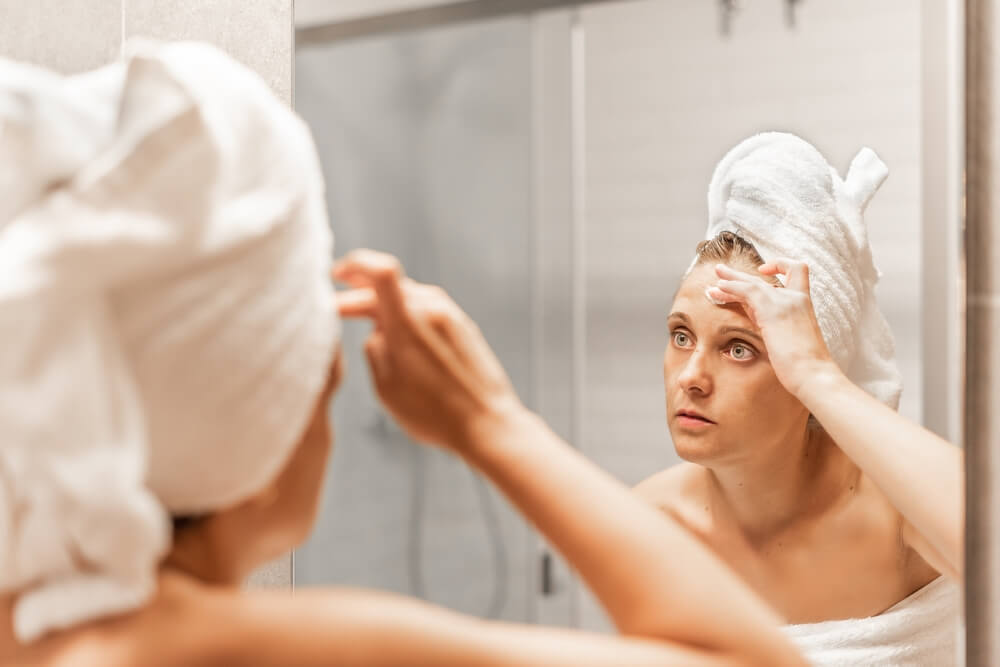 To Wrap Up
You'll see varying answers if you search the web for "how to treat forehead wrinkles." There are so many procedures and products available now that it's hard to determine which are effective, and suit your skin type. Remember, not every skincare product works for everyone.
That said, there are some treatments that almost anyone can use, although it's always best to consult your healthcare provider or dermatologist first. To make it easy for you, we've compiled a list of the best treatments that can help reduce the appearance of facial lines:
Botox

Dermal fillers

Facial treatments, like the 24K Nano Gold Recovery Facial and the Pre-Event Facial Featuring DMAE Filler

Procedures such as the Pre-Event 60 Seconds Face-Lift and the Venus Legacy Face
We've also listed ways in which you can slow down the formation of forehead wrinkles. These strategies include: wearing sunscreen daily, managing stress, avoiding smoking, staying hydrated, and eating a balanced diet. 
We also recommend using targeted skincare products with ingredients like retinol, antioxidants, hyaluronic acid, niacinamide or vitamin B3, peptides, and hydroxy-based acids like salicylic acid and glycolic acid.
What are you waiting for? Visit the Introlift Medical Spa now to achieve skin that looks soft, smooth, and young!