Handsome doesn't just happen overnight. You need to take care of yourself and your skin if you want that suave look everyone loves. And we know what you're thinking — skincare products and services tend to be marketed toward women. But the thing is, skincare is for everyone, and yes, that includes men!
Guys, we also deserve a little pampering after our daily grinds. And what better way to keep our skin rejuvenated than a facial? They're one of the miracles of skincare. Here, Introlift lists down some of our favorite facials for men. It's the 21st century! Trust us when we say now is the perfect time to get one.
Our Top 5 Favorite Facials For Men
There are so many procedures available for men. And just like that of women, guys can also select treatments to target their personal skin concerns. There's a procedure for almost all issues, so don't worry about not finding one tailored to your needs! And true to that, there are also many types of available facials for men. 
Before we start, know that skincare treatments aren't gendered. That means you can avail of services even if they're marketed toward the female population. However, facials for men are designed to target skin concerns experienced by men specifically. 
Here are our absolute top picks:
The Wild Caviar Restoration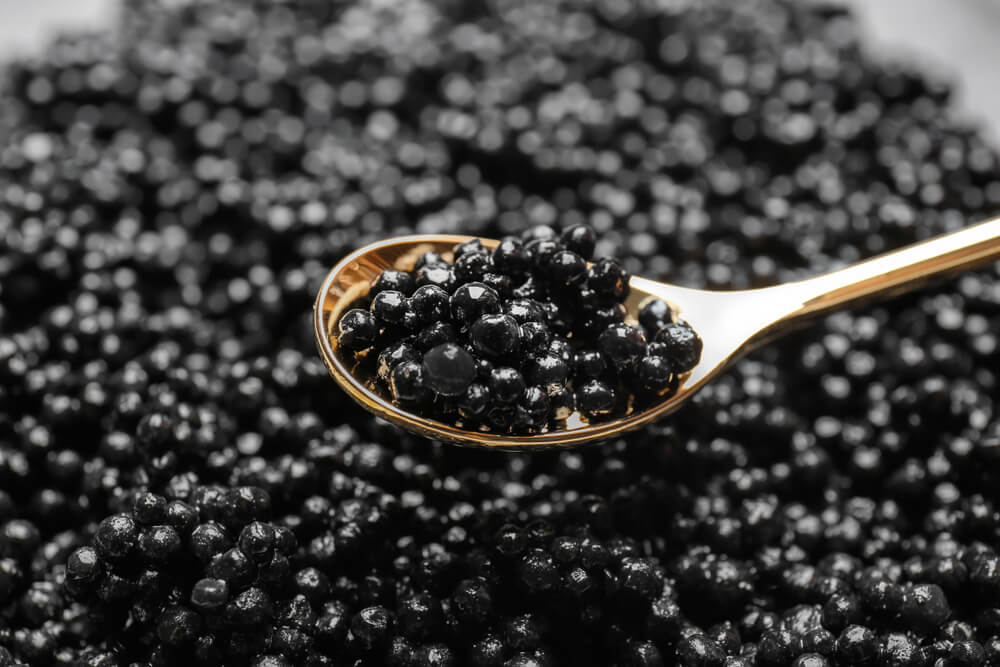 Do you want to know why the Wild Caviar Restoration is one of our top picks of facials for men? It's because it's a soothing treatment that aims to wash away stress and tension and leave you looking brighter and fresher.
You might be asking: How?
It combines aromatic oils, flower extracts, and wild American caviar to whittle away tension and stress. Life happens, and commitments and obligations often pile up on top of one another to create a giant tower of responsibilities. And if it seems like you can't take a breather, then you must be under constant stress.
Resting and recharging are part of the path to success too. So don't hesitate to book an hour of your time to step back and relax. Try one of our favorite facials for men to really drive home that relaxing me-time.
What To Expect During a Wild Caviar Facial Treatment Session:
Our wild caviar facial includes a light chemical peel and other highly-advanced technologies combined with all-natural products to repair sun damage, tighten your skin, and brighten your face. As a blend of technology and nature, this is one of our favorite facials for men.
The RF Aqua Lift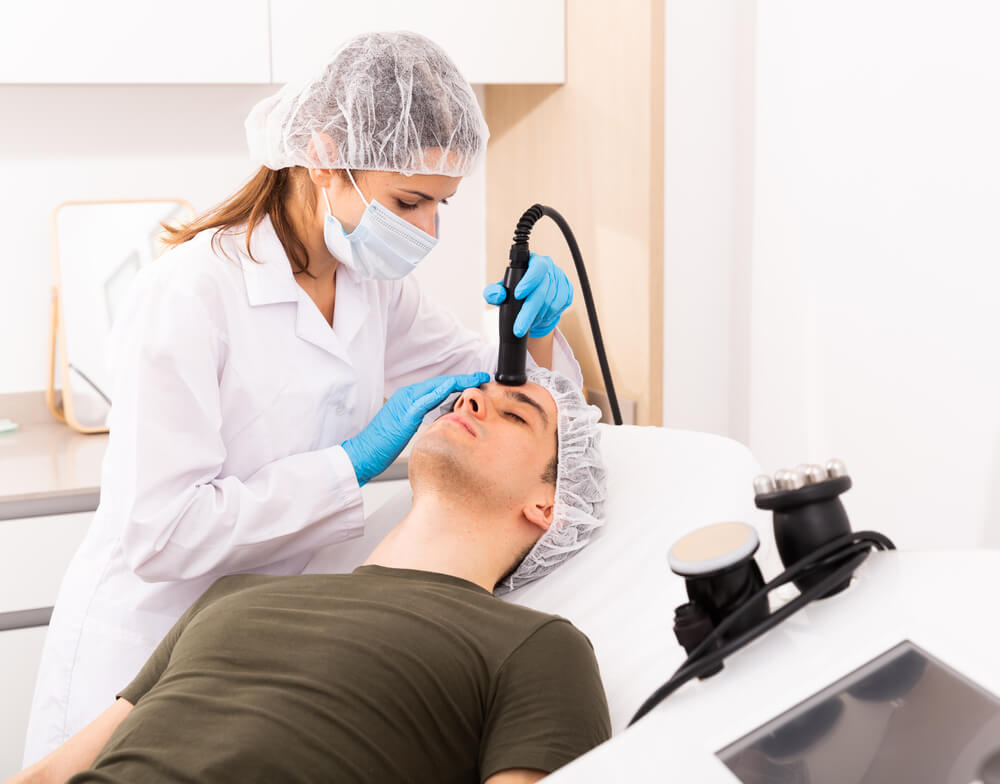 Deep cleansing facials are high up on our favorite facials for men because of how they make you feel refreshed. It's one of the most common facial treatments performed by estheticians. Many men enjoy it for the fresh feeling they experience afterward and the sense of well-being that comes from a deep clean. But some people worry about the downtime.
If you'd like a deep clean that doesn't involve any discomfort or downtime, we offer the RF Aqua Lift. This facial is your ticket to ultra clean skin while also protecting it from future damage. It uses all of the deep cleaning techniques: exfoliation, extraction, dermabrasion, and more, with procedures to shield your skin from harmful oxidants and dehydration.
What to Expect During an RF Aqua Lift:
Your esthetician will start with a deep cleanse, using different cleansers in the process. That helps them remove impurities from your skin, like dead skin cells, debris, oil, and other products. After making sure your face is free of dirt, they'll proceed with manual extraction to get rid of your acne, especially your blackheads.
Following that, your esthetician will apply serums and creams depending on your skin concerns. Some are soothing, while others are protective. It depends on the goals you set and what your skin requires.
The Brightening Facial for Hyperpigmented Skin
If you're a guy who likes going out into the sun, you've probably got some spots on your face — the dark marks of a healthy, active lifestyle. But sometimes, you want that clean and clear look. 
That's where our Brightening Facial comes in.
This Introlift facial uses an advanced blend of Kojic Acid and vitamins to improve the radiance of your face and even out discolorations and spots. You're a fit, healthy guy — so why not have your skin match up with your body?
What to Expect During a Brightening Facial Treatment Session:
Like our other facials, our Brightening Facial includes a light chemical peel to remove damaged skin, even out your complexion, and leave your face smooth. After that, your skin care specialist will use radiofrequency treatments to tighten and firm up your skin, followed by LED therapy to clean up any remaining damage, acne, or other skin problems.
It's one of our top picks of facials for men because we know that some men live on the edge, and you need care too. We know how life can get you, and sometimes you've got to get into the fresh air. Just don't forget to take care of your skin too — sunlight and the outdoors can damage your skin, so it's always good to grab a facial afterward.
The Therapeutic Heat Facial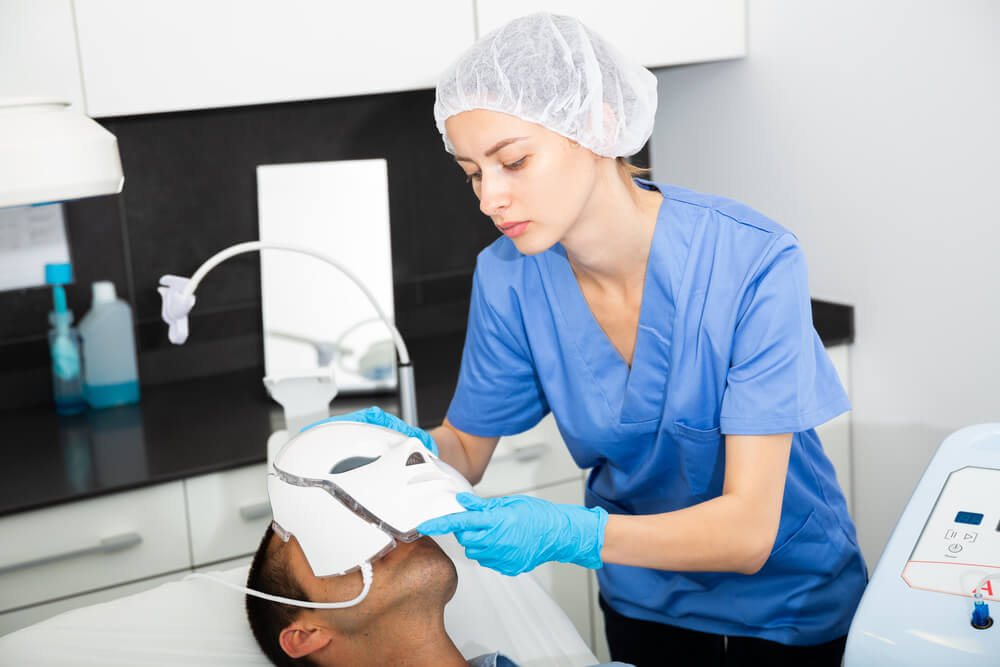 Want to treat your skin to a deep detox? Check out the Introlift Therapeutic Heat Facial. This is one of our best-selling facials for men because of how it effectively refreshes and rejuvenates the skin.
It's ideal for anyone who has been experiencing a dull complexion. It'll clear out any gunk, brighten your skin up, and help to turn back the hands of time. In addition to its detoxification effects, this facial also offers anti-aging benefits, making it a great one to get regularly.
What to Expect During a Therapeutic Heat Facial:
There are a few different elements involved in this facial, with the first being a deep cleanse. After this, you'll be able to choose between a radiofrequency or an ultrasound treatment, depending on the results you're hoping to see. Don't worry, your Introlift esthetician will guide you to ensure that you make the right choice. Whichever you pick will be combined with a light chemical peel to really maximize results.
Finally, you'll undergo advanced LED therapy. Again, the exact details of this will depend on what you want to treat. However, LED therapy can be used to target everything from acne to wrinkles, so your options are endless.
Anti-Aging Facials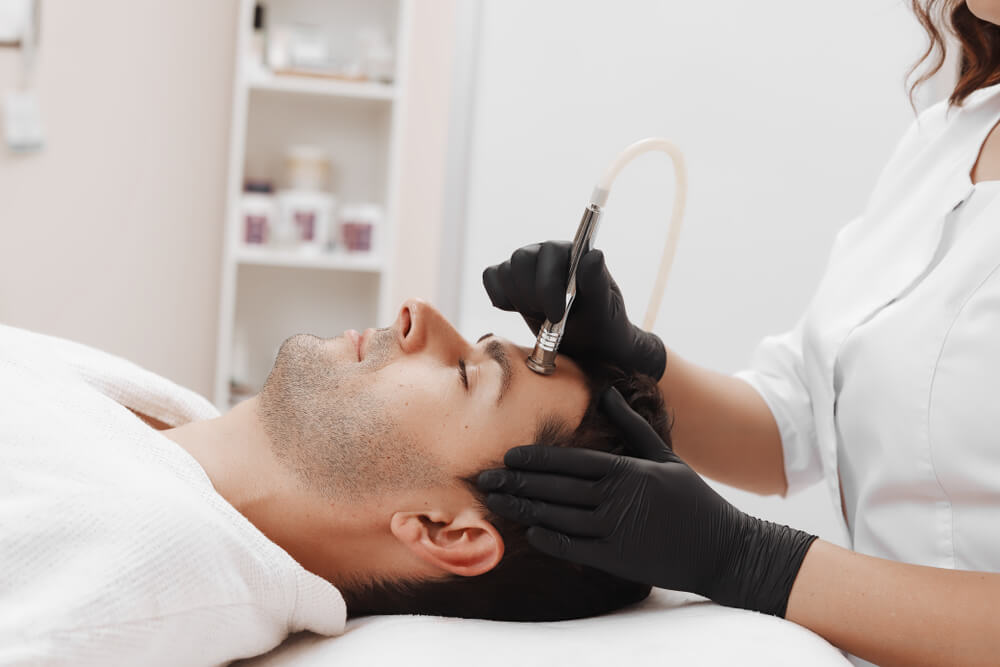 Anti-aging facials aim to remedy and counter the negative impacts of time on your skin. That also includes sun damage, since the two mostly share similar effects. Whether you're a man or a woman, we all want youthful, healthy, and unblemished skin. There are also many different anti-aging facials to choose from, making it one of our favorite facials for men. Some of the best anti-aging facials include:
Collagen Facial

– firms and smoothes skin and restores elasticity

Light Therapy Facial

– stimulates cell turnover to promote smooth and plump skin

Microdermabrasion Facial – exfoliates and resurfaces skin to improve texture and complexion
They all target the signs of aging left on your skin. However, they all differ in how they're done. 
What to Expect During an Anti-Aging Facial Treatment Session:
An anti-aging facial starts with deep cleansing, while manual extraction is sometimes involved too. This procedure will differ depending on which type of anti-aging facial treatment you select. Collagen and hydrating facials, for example, use serums and creams to reap benefits. Light therapy, on the other hand, uses controlled heat from a medical-grade LED device. Microdermabrasion is done with an exfoliation tool designed for the procedure.
How to Choose the Best Facial For You
As you can see, different facials are available to tackle different skin concerns. Your best bet would be to start by making a list of the specific skin concerns you want to treat. Acne? Dark spots? Frown lines? Crow's feet? Rough skin? Write them all down. Then, take a look at the different facial treatments offered by Introlift – we promise that you'll find at least one that treats your top three concerns!
If you're still confused, book yourself a consultation with one of the estheticians here at Introlift. They'll be able to guide you and help you pick the best facial.
Aside from recommending a treatment, your esthetician can also tell you about other procedures available for you. 
Remember that skincare is self-care. So don't hesitate to add a few facial treatments to your me-time routine. The procedures don't last long either, meaning that you can squeeze them into your schedule even if your day is jam-packed.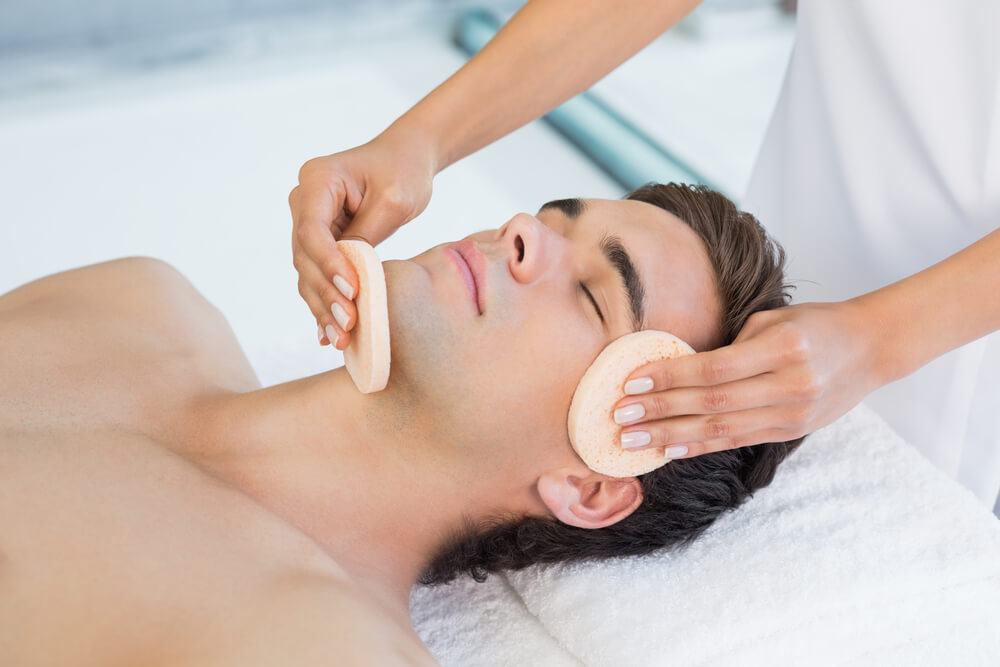 Before Your Facial
Before you have a facial, you have to undergo an assessment. Your esthetician or dermatologist may ask about the following information:
The status of your skin

Your skin concerns and goals

Your health status and other conditions

Medications you're taking

Your general lifestyle
These questions can help evaluate whether it's safe for you to undergo a facial. They also give your esthetician the information needed to recommend the best procedure for you.
After Your Facial
Facials for men can be a bit uncomfortable afterward. However, that's to be expected, considering you've undergone many procedures on one of the most sensitive parts of your body. Your esthetician will provide you with care instructions to help you recover from the treatment, like:
Rules for your

skincare routine

Products to help calm your skin down

Skincare ingredients to avoid for a while

What to do if something unusual happens
These directions will help you recover fast and prevent you from irritating your temporarily-sensitive skin. Make sure to follow them all to make the most out of your facial treatment!
To Wrap Up
If you want to develop the habit of taking care of your skin, facials for men are your best friend. They can give you tons of benefits for a fraction of your time and a few bills from your wallet. There are so many options you can choose from. Just pick one that suits your needs best, and you're good to go! And if you're not sure which one to choose, you can always ask your esthetician or dermatologist for a recommendation.
In addition, you can absolutely try other facial treatments, even if they're marketed toward women. Skincare isn't gendered, after all — men need just as much care as women, and who doesn't want to look good? However, facials for men are specifically designed, formulated, and planned to cater to the skincare needs of guys. But remember, you can try whatever you want if it makes you feel good and gives you benefits.
What are you waiting for? Visit the Introlift Medical Spa now to treat yourself to some of our facials for men.