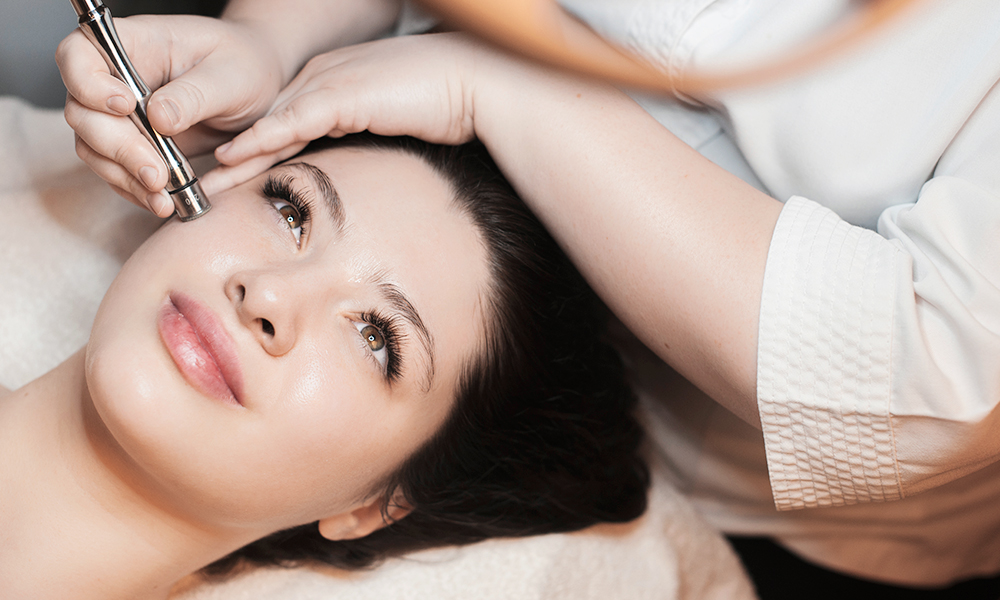 If you've got any scars or pigmentation on your skin, then you are probably already well aware of how difficult it can be to clear these away.
Sometimes, a little professional help is what is needed, and this is where the Introlift Medical Spa comes in…
There are nine main treatments here that target scars and pigmentation, helping you to achieve that clear and bright complexion you have always longed for.
1. LASER SKIN REJUVENATION
Let's begin with one of the most powerful treatments for reducing both pigmentation and scars – Laser Skin Rejuvenation.
This treatment is so effective that you can expect to see your pigmentation and scars lighten by up to 90%!
Sound good, right?
Well, it gets even better!
A Q-switched laser is used to perform this treatment, meaning that there isn't any downtime. You may experience a slight flush to your skin for about 15 minutes after the treatment, but this will clear away pretty quickly on its own.
You are probably wondering how the treatment actually works…
The Q-switched laser sends short pulses of light into your skin. These rays target the clusters of melanin in the skin, which are what lead to dark spots. Once the melanin has absorbed the light energy, this causes them to then break down, therefore clearing those dark spots away.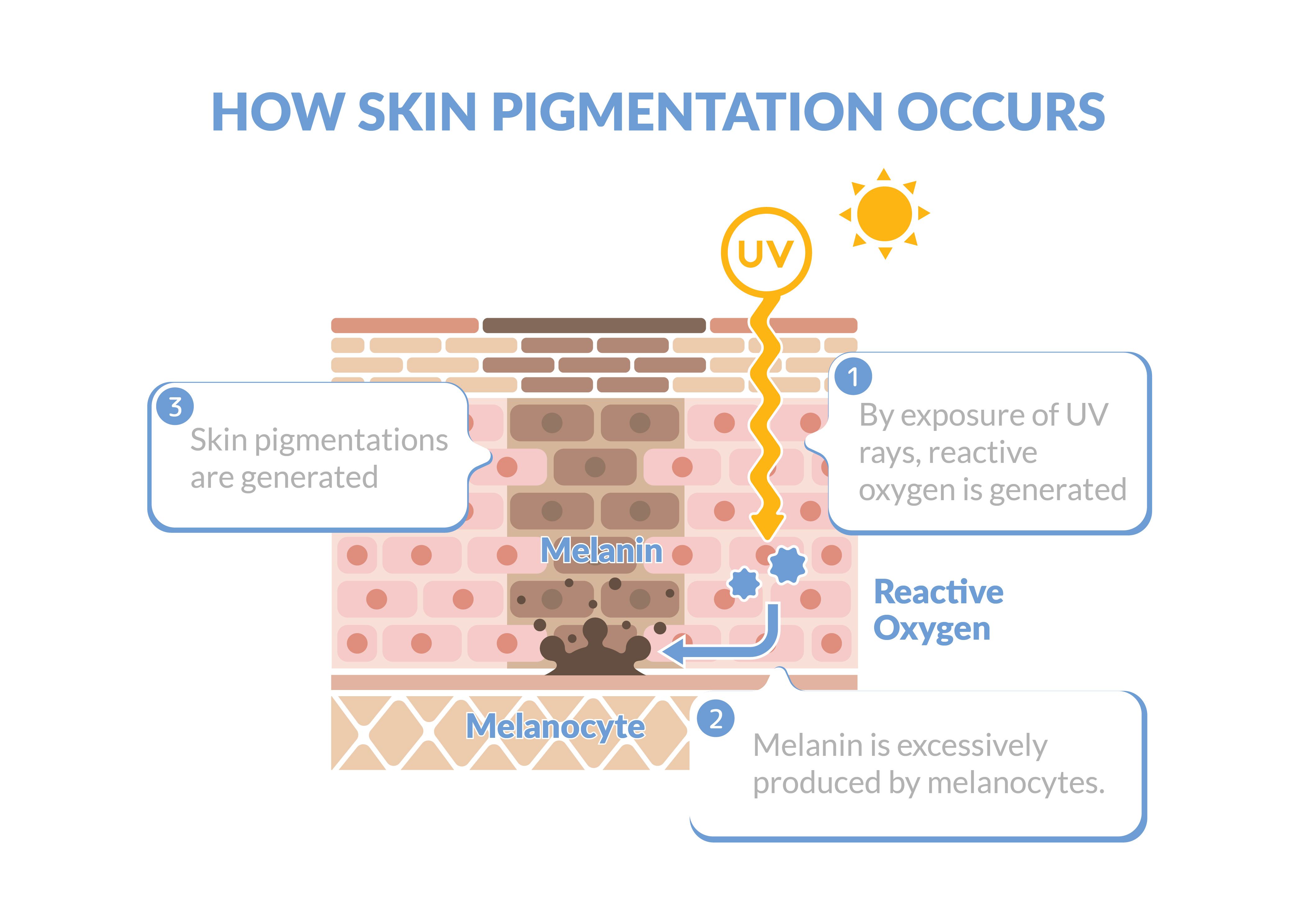 The laser can target scar tissue too, clearing this away to give your skin a smoother and clearer appearance.
Other beneficial side effects of this treatment include:
Tighter skin, due to the laser stimulating an increase in collagen production
Better oil control, and therefore a reduction in breakouts
2. ADVANCED CORRECTIVE PEEL
Also known as the Jessner Peel, the Advanced Corrective Peel is a chemical peel that contains clinical-grade acids.
Chemical peels are fantastic for reducing both pigmentation and scarring, but you do need to get the strength of the peel right.
The Advanced Corrective Peel is a medium-strength peel. This means that it targets the upper layer of the dermis, bringing about a noticeable effect with minimal downtime.
How does the Advanced Corrective Peel help with scarring and pigmentation?
It basically peels away the top layer of your skin. Your skin sends out an inflammatory response that triggers its natural healing process. It is this healing process that clears away everything from scar tissue to excess melanin, while also helping to minimize wrinkles and improve skin elasticity.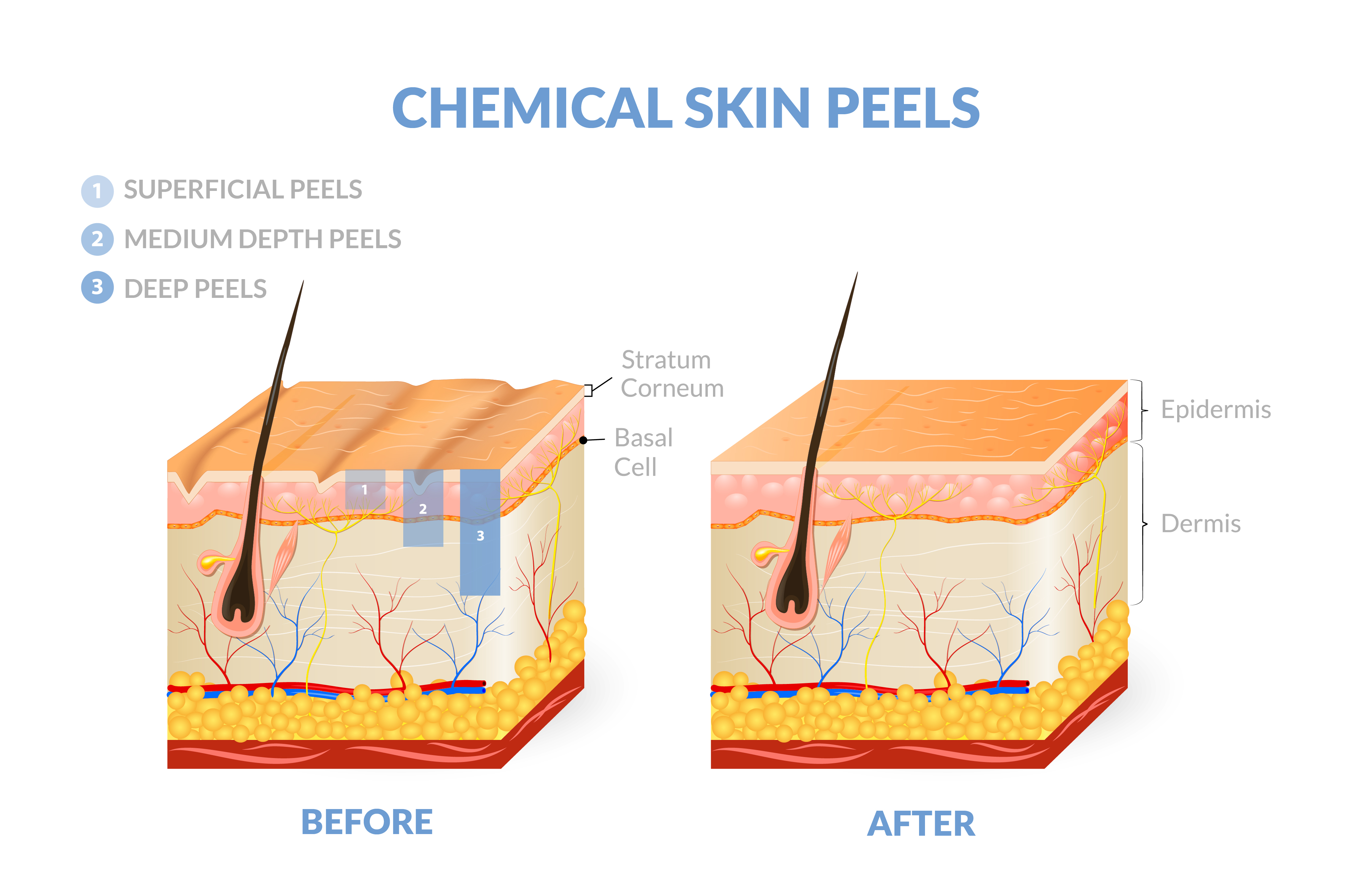 While this is definitely an effective treatment, you do need to make sure that you follow post-care advice to the letter. Your skin will be quite sensitive and vulnerable to damage after a chemical peel, and it is important for you to encourage the healing process, rather than hindering it.
3. EMATRIX SUBLATIVE REJUVENATION
The Ematrix Sublative Rejuvenation treatment is quite an impressive one…
It makes use of a hand-held device that sends radio frequency waves, in dotted matrix patterns, deep into the dermal layers of the skin. This then stimulates the skin that surrounds each of those dots, causing those cells to amp up their production of both collagen and elastin.
How long does it take to see results?
You will notice improvements in your pigmentation and scars pretty quickly, and these results will continue to improve for three to five months after your final treatment.
What makes this even better is that the treatment is really quick, taking around 30 minutes. Since it is non-ablative, it does not cause any damage to your skin's top layer, meaning that the downtime is only a couple of days.
Concerned that the Ematrix Sublative Rejuvenation wouldn't be right for your skin?
Don't worry, this is a treatment that works effectively on all skin types. It doesn't matter how severe your pigmentation may be either – the Ematrix Sublative Rejuvenation can help!
4. MICROPEEL PLUS 20 SOLUTION
If you have oily, acne-prone skin, then salicylic acid is an ingredient that you have probably already heard of.
It is found in many of the acne treatments out there, and is also the star ingredient in the medium-depth Micropeel Plus 20 Solution.
However, this micropeel doesn't just contain a small amount of salicylic acid…
It has been formulated with 20% salicylic acid, along with glycolic acid, to really give the top layer of your skin a thorough exfoliation.
This not only helps to improve the appearance of pigmentation and scarring, but can also help with:
Keeping the pores clear
Reducing spots and preventing breakouts
Stimulating the skin cell renewal process
Giving the skin an overall brighter and fresher look
Since this peel features such a potent solution, it isn't for everyone. If you would like to find out whether or not you may be a suitable candidate for the Micropeel Plus 20 Solution, you can book yourself in for a consultation. If this treatment isn't for you, a more suitable alternative will be suggested.
5. PIGMENT BALANCING PEEL
If you like the sound of the Micropeel Plus 20 Solution mentioned above, but would prefer something that offers up even more dramatic results, then the Pigment Balancing Peel could be just what you need.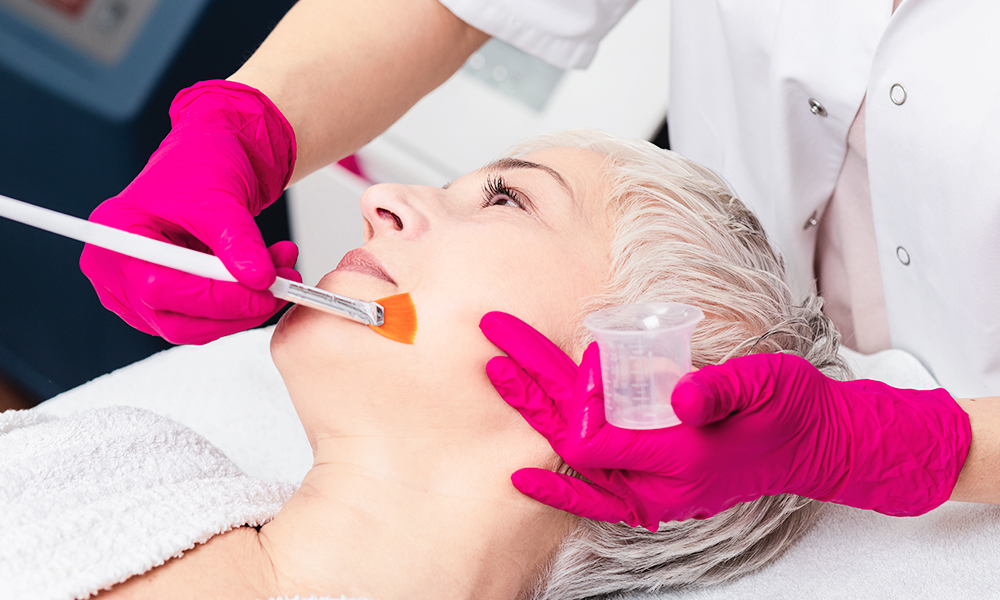 6. VITAMIN C SIGNATURE FACIAL
It was mentioned above that vitamin C is such a fantastic ingredient for targeting pigmentation.
Well, this is the star ingredient in the Vitamin C Signature Facial.
In addition to reducing the appearance of pigmentation, this facial also brings about noticeable anti-aging effects, minimizing fine lines and wrinkles while brightening the overall complexion.
The Vitamin C Signature Facial actually combines a few different treatments:
Detoxing therapeutic mask – this mask helps to give the skin a deep cleanse, clearing away toxins, dirt, dead skin cells and any other impurities
Light chemical peel – this exfoliates away the top layer of your skin, enabling the ingredients in your facial to penetrate deeper into your skin's layers and have a more noticeable effect
Radio frequency skin tightening – this treatment stimulates your skin's collagen production, which helps with both pigmentation and scarring
Advanced LED light therapy – depending on the color of light used, LED light therapy can target a wide range of different skin concerns, including pigmentation and scarring
Of course, your skin may not need all of these treatments, or may require something a little different. This is where the beauty of customization comes in – your facial can be tailored to cater to your skin's individual needs and concerns.
7. MICRONEEDLING
Also known as collagen induction therapy, Microneedling is a treatment that can help with many different skin concerns, from pigmentation and scarring to wrinkles and enlarged pores.
How does Microneedling work?
It makes use of tiny, fine needles that are inserted into the skin, creating micro-punctures. This might sound a little painful, but a topical anesthetic is applied to the skin before the treatment begins, meaning that you won't feel a thing.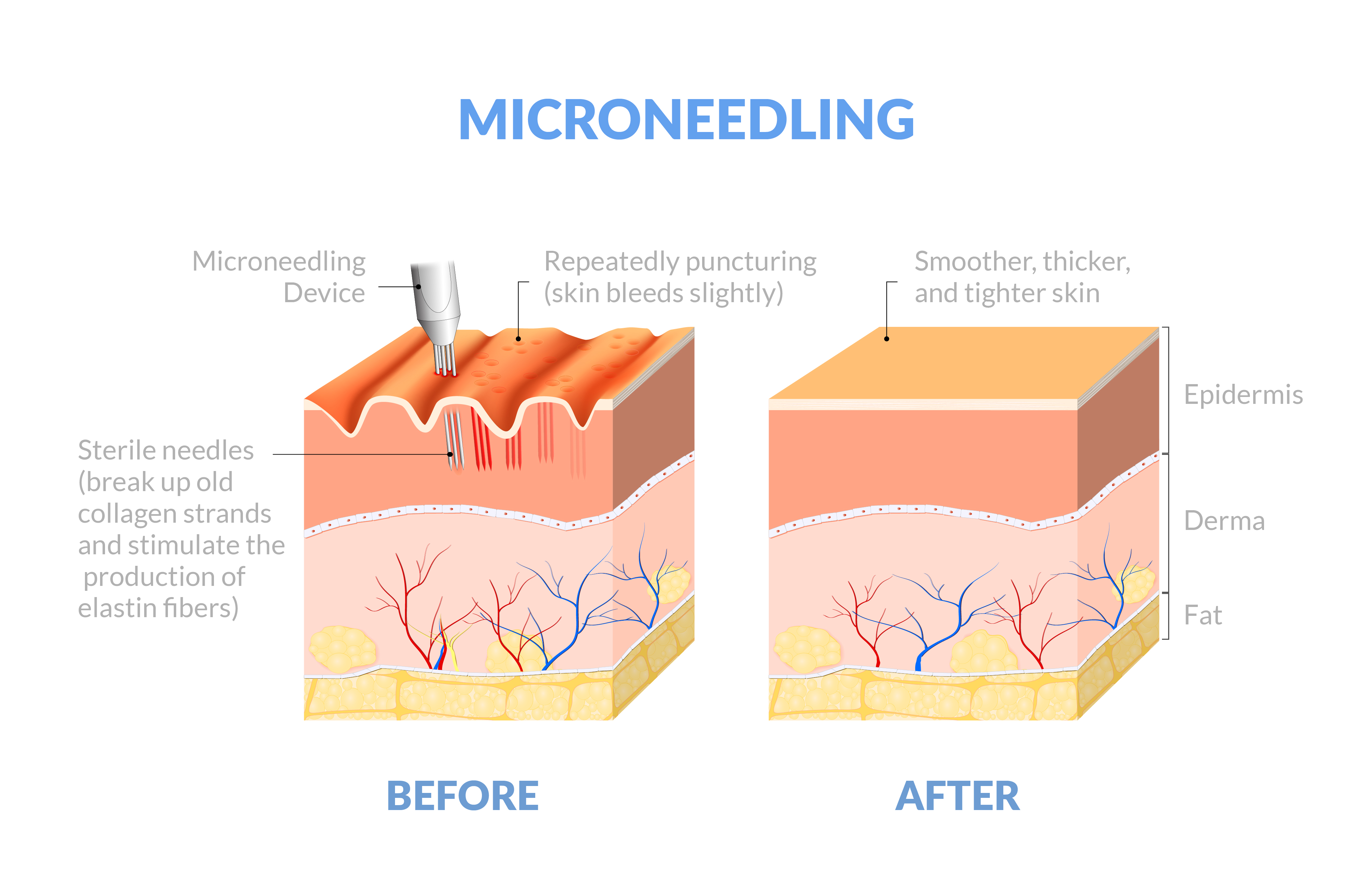 After the micro-punctures have been created, a hydrating serum is applied to the skin to keep it protected while it begins to heal.
The healing process is key in this treatment – this is what builds new collagen and elastin fibers, therefore giving the skin a smoother and more even appearance.
Wondering what the downtime for Microneedling is?
It usually takes about three days for your skin to heal on the surface, during which time you may experience some redness.
You will also need a few sessions in order for results to really be noticeable. The exact number of sessions you will need depends on how serious your scarring or pigmentation is, but this is something that would be discussed with you before you begin your first treatment.
If you like the sound of Microneedling, you could also consider the Microneedling With PRP treatment…
Never heard of PRP before?
It stands for Platelet Rich Plasma. It is basically a serum that is highly concentrated with growth factors.
What are growth factors?
They are naturally found in the blood, and they trigger the growth of everything from collagen and elastin to blood vessels.
PRP can really enhance the results that you experience from a Microneedling treatment, and even more so if you opt in for PRP injections before your treatment. This is an add-on that Introlift offers, enabling the PRP to reach the deeper layers of your skin.
8. BRIGHTENING FACIAL FOR HYPERPIGMENTED SKIN
Facial formulas vary greatly, and the Brightening Facial for Hyperpigmented Skin features a specialized concoction of lightening and brightening ingredients.
In addition to kojic acid and vitamin C, this facial also makes use of vitamin A.
What does vitamin A do?
It has a lightening effect, while also stimulating the skin cell turnover process, helping to reduce any scars. Plus, if you happen to have a few aging concerns too, vitamin A is known for being one of the most potent anti-aging ingredients out there, making this an ingredient that really does tick all of the boxes.
In addition to the advanced formula that is applied to the skin during this facial, this treatment also includes a light chemical peel for exfoliating purposes, radio frequency skin tightening and LED light therapy. Again, this treatment can be tailored to suit your skin's individual needs.
This is a treatment perfect for dealing with those pesky patches of pigmentation, along with scars and other skin blemishes.
9. CARBON LASER PEEL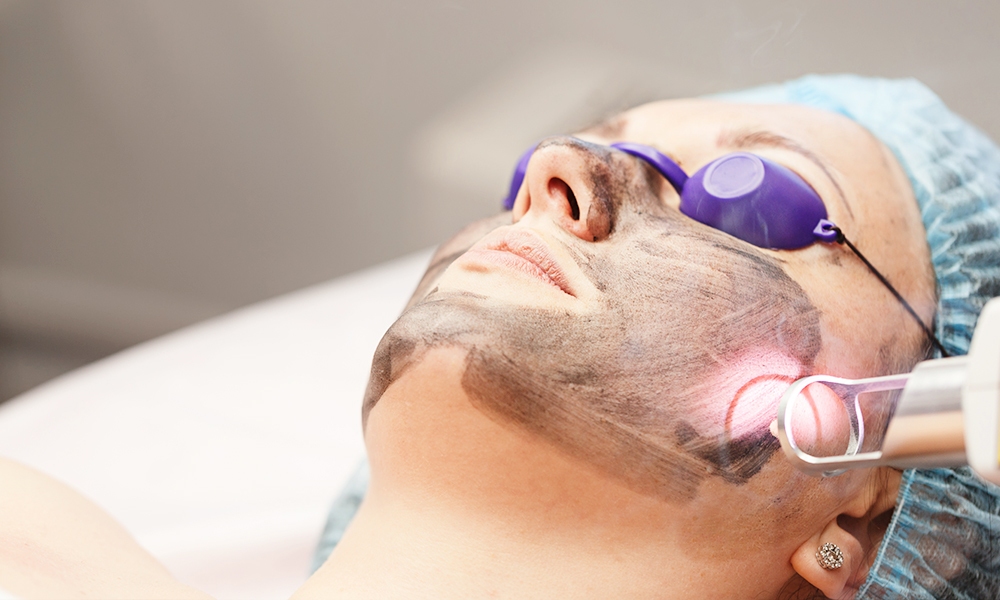 The Carbon Laser Peel is such an innovative treatment, and is one that can really help to improve both pigmentation and scarring.
Wondering what this treatment consists of?
It makes use of liquid carbon, with a layer of this being applied over the top of your skin. This carbon is then absorbed by your skin into its pores. Once there, the carbon adheres to any dead skin cells, oil and dirt.
After that has happened, a laser light is held over the skin. When the laser light comes into contact with the carbon, it destroys it, along with the dead skin cells, oil and dirt that the carbon was holding on to.
As you can imagine, this then leaves the skin looking so much smoother, fresher and brighter.
Do you often experience acne breakouts?
If so, you will be happy to know that the Carbon Laser Peel can help with this.
How?
Because carbon is able to target and destroy any traces of the P.Acnes bacteria on the skin, which is the strain of bacteria that is responsible for breakouts.
Carbon also constricts pore openings, meaning that your skin is not able to release as much oil as it normally would. This reduction in oil means that your pores are kept clear, therefore reducing both the severity and frequency of your breakouts.
There are many at-home treatments for reducing pigmentation and scarring, but these can sometimes take several months to bring about even a small improvement. These nine professional treatments will not only offer you immediate results, but those results will get even better as the months go on.