Everybody has body hair. But, depending on personal preferences, you might want to get rid of it. People opt to remove unwanted body hair for several reasons. Some of these include:
Personal hygiene
Improved skin complexion
Seasonal changes
Aesthetic preferences
No matter your motivation, there's a crucial step you need to take: Figuring out the best hair removal treatments. Our bodies will respond differently to each treatment method. So, it can take some time to discover what will work best for you.  Don't lose hope, though! Introlift has put together the best hair removal treatments in this article. If you're feeling lost on which method you should pick, then make sure you stick around 'till the end.
Best Hair Removal Treatments To Explore
You're probably already aware of this, but just in case you missed it:  You've got other options aside from shaving and plucking.  If you're someone who wants something more than these two methods, we get you. Shaving only targets the hair at the surface, after all. Here are some of the best hair removal treatments you've got to explore!
Laser Hair Removal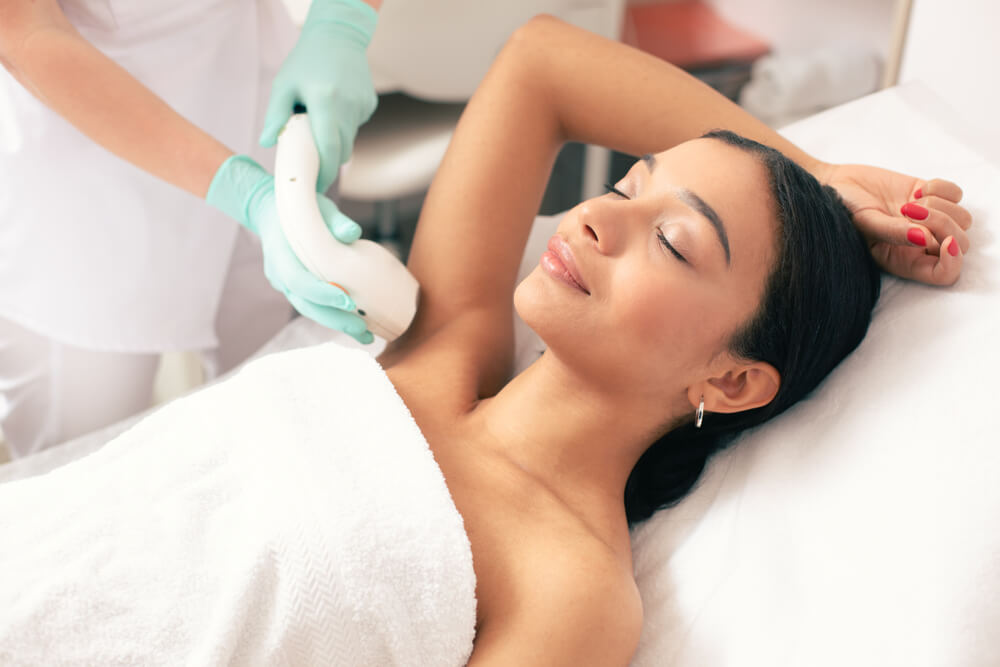 If you're looking for a treatment that will provide a long-term effect, your search is over.  Laser hair removal is here for you!  Similar to electrolysis, laser hair removal targets the hair follicles. However, the procedure will not employ the use of needles. Instead, it uses a highly concentrated light. No pricking needed! Pigments in your hair follicles will absorb this light, destroying your hair strands. Unlike electrolysis, laser hair removal can target large areas at once. How? Each pulse only takes less than a second and can target multiple hairs at once. Laser hair removal is one of the most sought-after cosmetic procedures in the U.S! And for good reason:  Many patients experience permanent hair loss after three to seven laser sessions! Laser hair removal can target many areas of the body, including:
Face
Chin
Back
Arm
Underarm
Bikini Line
Leg
It is normal to expect redness and skin irritation after a laser session. These are temporary and will fade quickly. Scarring and blistering may also occur, but these outcomes are extremely rare.  After completing your prescribed sessions, hair removal from the laser will last for months. In some cases, it may even last for years!  Do we consider laser hair removal as one of the best hair removal treatments? Our answer is a big yes!
Introducing The Introlift Medical Spa Laser Hair Removal
We at Introlift are committed to bringing you the most effective and advanced solutions. That's why we make sure that our Laser Hair Removal belongs on the list of the best hair removal treatments in the industry.  It combines the benefits of the Alexandrite wavelength and the advantages of a diode laser.  The Introlift Laser Hair Removal has multiple modes of treatment. Depending on your needs, you can get laser hair removal for three different areas:
Small area
Medium area
Large area
We at Introlift only perform the best treatments with minimum downtime. Our Laser Hair Removal is no exception!  Plus, we pride ourselves on our unrivaled customer care. Rest assured that you're in good hands! Still unconvinced? Check out our glowing patient reviews to see what sets Introlift apart from other medical spas!
Professional Waxing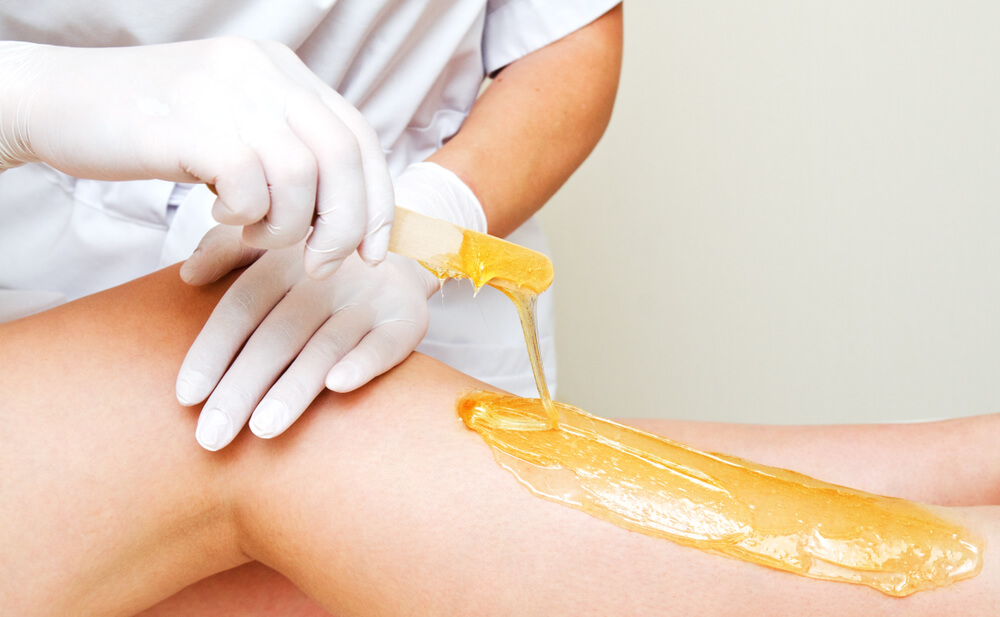 If you're looking into hair removal for small areas of your body, this treatment is an affordable option.  Professional waxing is done by a certified aesthetician. These trained individuals know the best ways to pull hair directly from the root.  You may be thinking: Why should I visit a certified aesthetician? There are tons of waxing products available at the drugstore! True, there are a lot of drugstore options for waxing and tweezing. However, doing the hair removal by yourself has its risks.  For one, you might hurt yourself. When the wax is stripped off the wrong way, it can cause tears on your skin.  It can also take twice as long compared to having it done professionally.  So what are the pros of getting professional waxes?  Under the guidance of your certified aesthetician, you will feel much safer. That's because you'll be in the hands of a professional with the right knowledge and experience. Also, salons have a variety of quality products. They'll most likely have the one most suited to your skin type. Your aesthetician will also make sure to recommend a course of treatment that will work best for you. Results of this treatment will differ depending on how fast your hair grows. On average, it may last from two to eight weeks. Depending on your pain tolerance, professional waxing may cause a certain level of discomfort. The most common side effects of this treatment include mild rashes and irritation. However, these will usually fade away quickly. Is professional waxing on the list of best hair removal treatments? Like we mentioned, it's perfect if you want to target small areas of your body. It can include your underarms and eyebrows. For foolproof results, visit your trusted medical spa.  Say hello to smooth underarms and on-fleek eyebrows with this treatment!
Chemical Depilation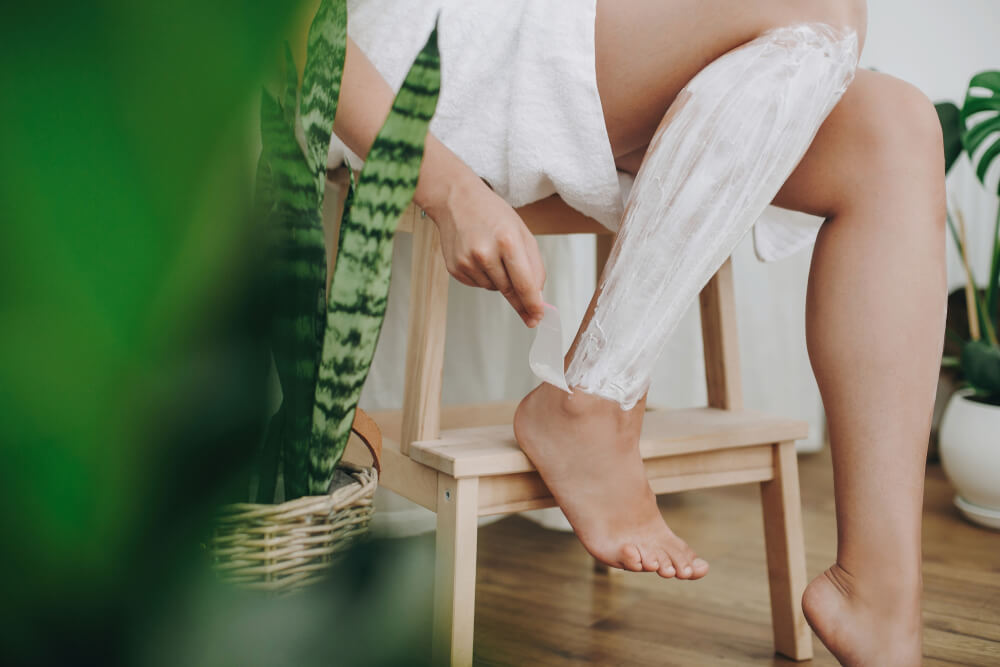 In this treatment, you'll be using an over-the-counter gel or cream often called "hair removal cream" or "depilatories".  There are specific depilatories for different areas of the body and variations for men and women.  How does chemical depilation work?  Using the gel or cream will weaken a protein in your hair called keratin. This protein makes up your hair, skin, and nails. Once the keratin is broken down, your hair will fall out and can be easily wiped off.  The best thing about this treatment is that you can do this at home. Another major advantage is that it is virtually pain-free.  However, it does not affect the hair follicle. Because of this, results will usually only last for two weeks. Side effects of hair removal creams include blisters, chemical rashes, and burns. To avoid any unwanted consequences, it's best to do a patch test first. Try using the product in a small part of your body and observe. If there are no harsh reactions, you can proceed to use the cream on a larger area of your body. Should you consider depilatory creams as part of the best hair removal treatments? If you're looking for a fuss-free and painless hair removal at home, grab this product! You can use depilatory creams on almost any area of your body. There are specific creams made for sensitive areas, too.
Prescription Creams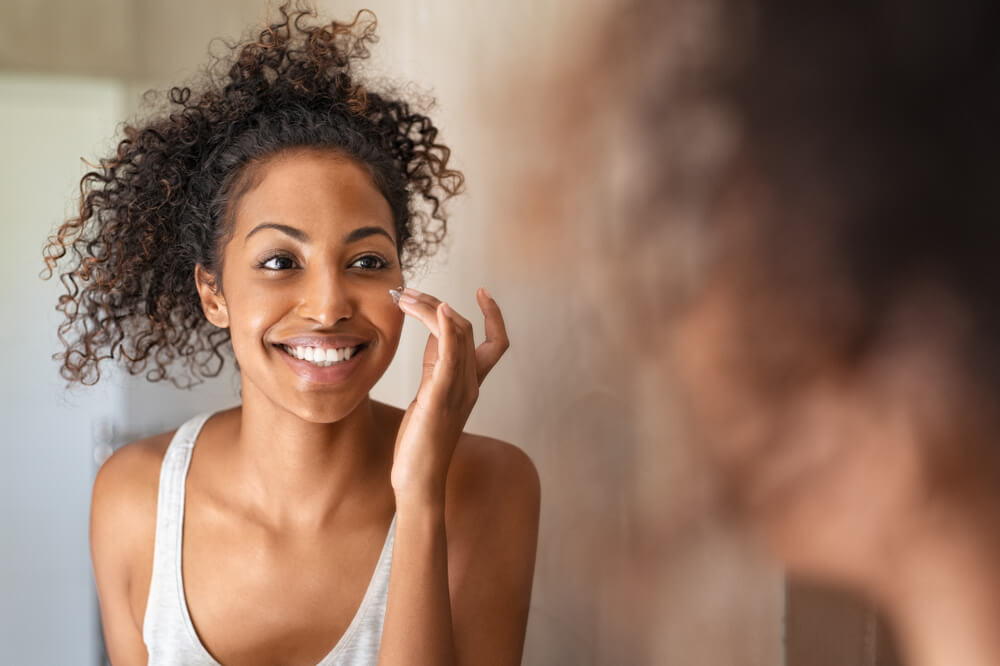 Are you hesitant to use an over-the-counter cream, but still want an easy-to-use product? Worry no more! If this is the case, you can talk to your dermatologist about prescription creams. Using a prescription cream is best for unwanted facial hair. An example of this cream is called Eflornithine, a product specifically made for women. In particular, this product is helpful to those who suffer from thicker facial hair due to hormonal disorders.  How does this prescription cream work?
When applied to the skin, Eflornithine will block the hair-producing actions of enzymes.
Apply it twice a day. You must wait at least eight hours before the next application.
Only apply a thin layer of the product and gently rub it well into your skin.
To prevent any irritation, avoid your eye and mouth areas.
It may take up to eight weeks before you see visible effects.
One thing you need to note is products like these do not remove hair as quickly as depilatories.  Although prescription creams don't necessarily "remove" hair, they are effective compliments to the best hair removal treatments!  They work deeper into the skin and target enzymes. With consistent use, they can significantly help reduce the growth of unwanted facial hair. Depending on your body's reactions, you may continue with other procedures. Don't forget to consult with your dermatologist for the best hair removal treatments to pair with your prescription cream.
Electrolysis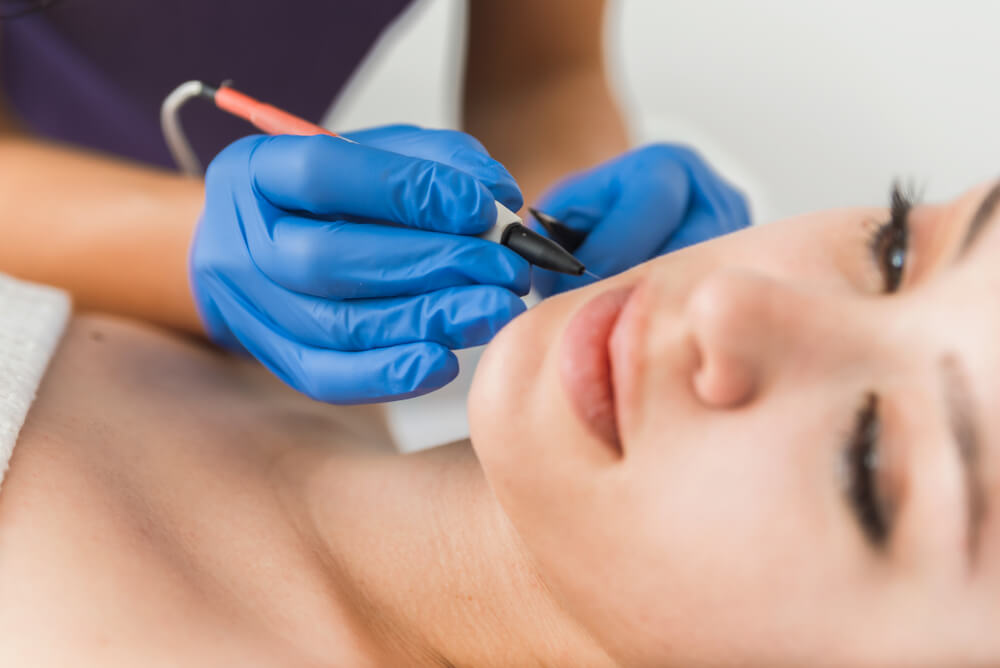 Electrolysis is a treatment targeting individual hair on your face or body.  During the procedure, an expert will use a tiny needle inside each hair follicle. These fine needles will distribute shortwave radio frequencies in the follicle, destroying the hair's root. The strand is then removed using tweezers.  Electrolysis can target hair from most areas of the body, including:
Eyebrows
Abdomen
Thighs
Legs
However, due to its meticulous process, sessions can take a long time. Because of this, it's best for smaller areas like the upper lip or chin. This treatment is also recommended for light-haired women who can't get laser or IPL hair removal. Depending on your hair growth, you may need multiple sessions. You may need to visit your aesthetician every one or two weeks until the hair is virtually gone.  Possible side effects from this treatment include redness and swelling. Scarring and infection from the needles are also probable serious outcomes. However, these are rare occurrences. Electrolysis is one of the best hair removal treatments as its rigorous process makes it effective for removing unwanted body hair.  Many people may feel afraid at the thought of needles pricking their skin. If you are too, you're not out of options. Read on to find out our favorite hair removal method!
Treat Yourself With Introlift Medical Spa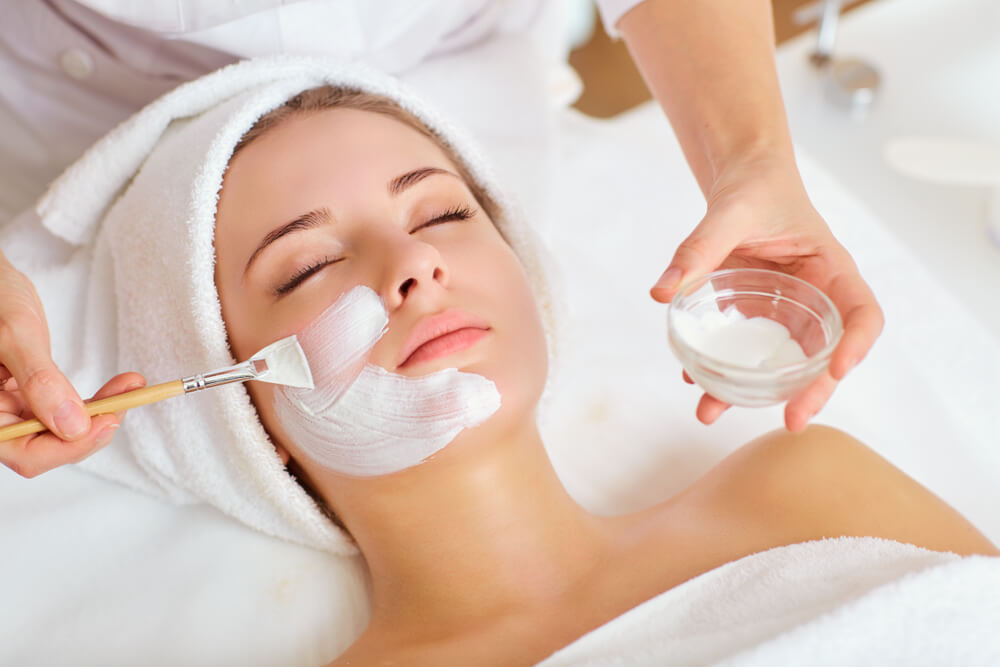 Our advanced technology doesn't end with our Laser Hair Removal. We have several other aesthetic treatments employing the latest technologies and techniques! We don't want you to be just hair-free – we also want you to be the best and happiest version of yourself! Here are some of our most popular offerings to pair with our Laser Hair Removal:
Laser Skin Rejuvenation
Laser Skin Rejuvenation is a powerful treatment that stimulates collagen production. It helps reduce the appearance of acne scars and dark spots. If you're looking for a quick, effective, and multi-purposed medical facial, then this treatment is your best bet!
Vitamin C Signature Facial
If you're looking to instantly brighten your skin, then the Vitamin C Signature Facial is perfect for you. It harnesses the power of vitamin C and retinyl palmitate, two favorite ingredients in the skincare world.  It doesn't end there! This facial also involves a therapeutic mask, a light chemical peel, radiofrequency skin tightening, and advanced LED therapy. These proven methods are sure to give you the results you've been craving!
Sclerotherapy 
Worried about varicose and spider veins? We got you. Our sclerotherapy is a minimally invasive treatment that will target those unwanted bulges and imperfections.  The best part?  It can also help improve related symptoms, such as aching, burning, and swelling.
BTL Vanquish
BTL Vanquish is a non-surgical treatment that targets unwanted fat. It can be used for the abdomen, upper back, flanks, and thigh. This is your ideal body contouring with no risk of unevenness, downtime, discomfort, and side effects! If you're looking into pampering yourself more, no need to look further! We offer different Custom Packages to target different problem areas. We also have monthly Promotions for your next beauty treat! If you want nothing less than the best, you can join us for monthly treatments through our several Membership options!
Your Hassle-Free Hair-Free Journey Starts at the Introlift Medical Spa
Looking for a Medical Spa for your hair removal needs can be challenging.  Why choose us? From the minute you step into our spa, you're already well-taken care of. We make sure that Introlift patient experiences are unparalleled by any other spa.  Furthermore, we strongly believe that there is no "one-size-fits-all" option when it comes to aesthetics. The best hair removal treatments depend on your needs!  So, at Introlift, we make sure to analyze your skin first. We are committed to helping you understand, prioritize, and clearly define your goals! Ready for your hassle-free hair-free journey to start? Book a free consultation now!