Visible signs of skin aging usually appear around the eye area because it is extremely thin. The delicate skin here has fewer subcutaneous fat tissues as well, causing it to sag from within. The thinning of the dermis worsens as you age, when skin cells begin dividing more slowly. Your body also produces less collagen as you grow older.  Thankfully, Introlift's treatments can help you turn back time and give your eyes their much-deserved youthful glow!  Here are five Introlift treatments that will help thicken the skin under your eyes:
Cryogenic Correction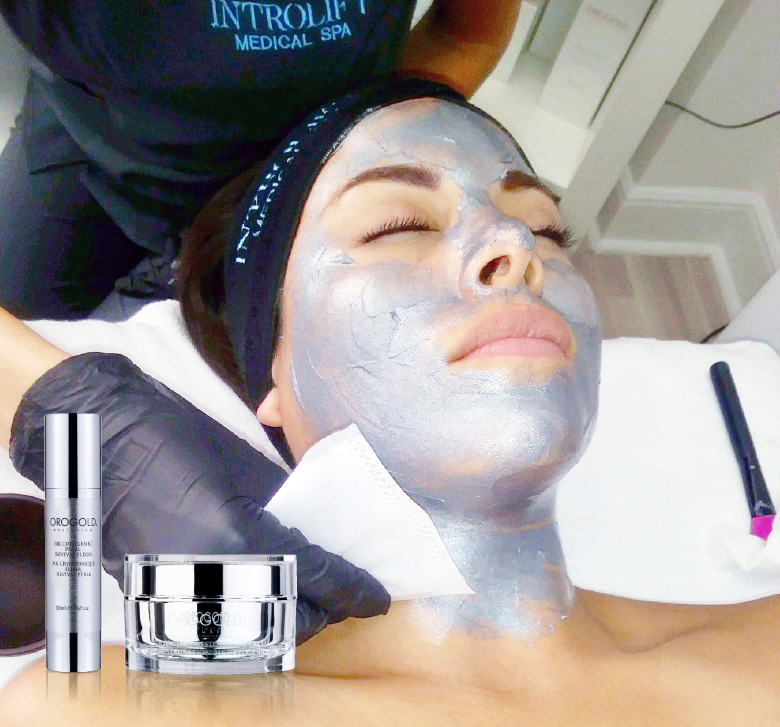 Are you looking for a treatment that could 'freeze' the effects of time on your skin? Look no further than Introlift's Cryogenic Correction. This facial procedure can restore your skin and boost its natural smoothness, radiance, and glow.
How Does it Counter Thin Skin Around Eyes?
Free radicals are highly unstable molecules that could damage your DNA, proteins, and lipids. It's hard to avoid free radicals as they are everywhere in the environment. These radicals are in sunlight, air pollution, and cigarette smoke.  Exposure can cause wrinkles, dark spots, and saggy skin. Furthermore, they can increase your risk of getting cancer and other diseases. For free radical damage, you can trust antioxidants to come to your rescue!  Green tea, an ingredient present in Introlift's Cryogenic Correction formula, is rich in antioxidants. It's also an effective remedy against different ailments, according to ancient Asian folk medicine. That's why it is one of the most widely consumed drinks, second only to water. That's not all! Green tea also has anti-photoaging effects, which can counter the damage from long-term exposure to UV light.  The sun's harmful UV rays are also partially responsible for thinning your under-eye skin. UV exposure breaks down your skin's collagen and elastin fibers, causing wrinkles and saggy skin. Tea leaf extract can protect your skin by absorbing ultraviolet radiation. Introlift's Cryogenic Correction formula also includes other powerful ingredients such as diamond dust, chamomile, and caffeine.
24K Nano Gold Recovery Facial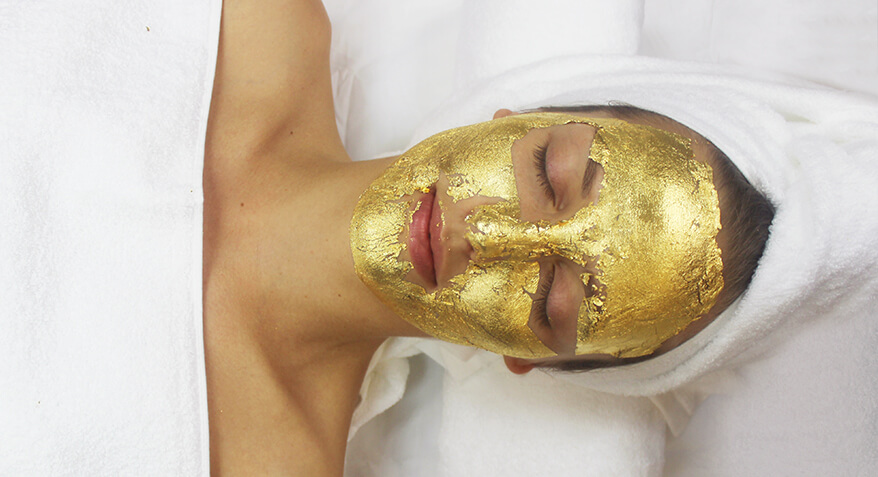 Experience a treatment fit for royalty with Introlift's 24K Nano Gold Recovery Facial.  Its infusion of real gold can reduce the appearance of wrinkles and fine lines. It can also give your skin a brighter and luminous glow. While gold is the superstar of this facial treatment, the facial's other ingredients also deserve recognition for their great benefits. These include:
Hyaluronic Acid (Sodium Hyaluronate)
Hyaluronic acid is a well-beloved skincare ingredient. It's natural and abundant in the body and is responsible for cushioning and lubricating connective tissues. While you can find this substance in many parts of the body, fifty percent exists in the skin. It is also responsible for the skin's hydration and elasticity. In the skincare world, hyaluronic acid is dubbed as the "key to the fountain of youth."  Here's why: Hyaluronic acid has extraordinary hydrating benefits. A single molecule can hold up to 1000 times its weight in the water! It collects moisture from the air and into your skin, preventing it from looking thin and saggy. This powerful humectant stimulates collagen production as well.  Unfortunately, the body's levels of hyaluronic acid deplete as we age. Many factors, including free radicals, stress, smoking, poor diet, and sun exposure, can contribute to these changes.  The great news is, you can supply your skin with hyaluronic acid through skincare products or treatments such as Introlift's 24K Nano Gold Recovery Facial. We infused sodium hyaluronate, the salt form of hyaluronic acid, into our procedure's potent formula. It's an excellent remedy for the thin skin around eyes!
Acai Fruit Extract
Like green tea, the grape-like fruit acai also boasts potential antioxidant properties, thus also preventing thin skin around eyes.  Acai palm trees are native to Central and South American rainforests. And these berries are a vital food source for the Amazon region's indigenous peoples.  In the US, acai products have earned fame for their anti-aging benefits. Acai is a so-called superfood, which refers to ingredients that are beneficial to human health.
Vitamin E
Need more antioxidants? Well, you're in for a treat. We also added vitamin E to the formula of 24K Nano Gold Recovery Facial! This ingredient has been in many cosmetic products for more than five decades, for very good reasons: Vitamin E can delay skin aging and help heal minor sunburns and burns. It's also an effective treatment for the thin skin around eyes because it protects UV radiation! Aside from your skin, vitamin E is also vital to your brain, vision, blood, and reproduction.
Exilis Skin Tightening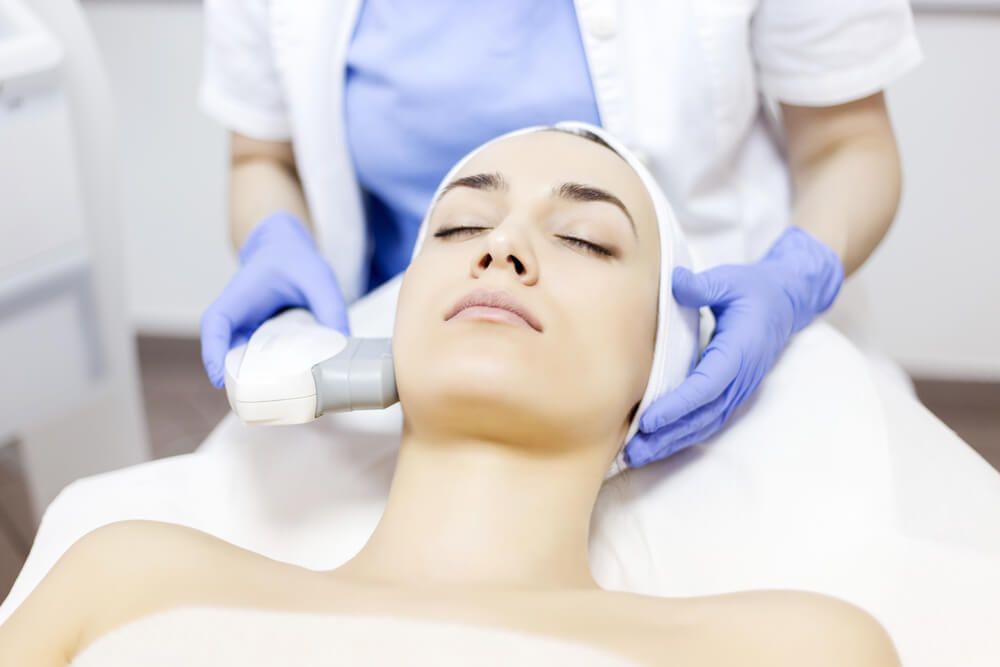 Do you want to treat your under-eyes but prefer a less invasive alternative to Botox?  Say hello to Introlift's BTL Exilis Elite, a face and body contouring treatment with no downtime and no pain.  The FDA has approved the use of this procedure since 2015. It reduces wrinkles, cellulite, sagging skin, and stubborn fat deposits. However, it is essential to note that the Exilis Elite is not a weight loss solution. This revolutionary technology is effective in sculpting any part of the body such as:
The full face
Lower face and neck
Chest
upper arms
Hands
Abdomen
Love handles
Buttocks
Knees
How Does it Help Prevent Thin Skin Around Eyes?
Exilis Elite is an effective and pain-free remedy to replenish your skin with collagen and elastin to make it look fresh and supple. It uses radiofrequency (RF) technology, an effective skin tightening treatment since 2001. Radiofrequency technology also increases the skin's temperature, causing a surge of collagen and elastin fibers' synthesis.  Collagen and elastin are natural proteins in the body that serve as building blocks for the skin. They are responsible for smooth, elastic, and firm skin.
How Does it Work?
The procedure uses a special device that emits both radiofrequency and ultrasound energy when placed over the skin. The device targets specific body parts and controls how much energy it focuses on in every area. Exilis Elite also uses cooling technology to provide a comfortable feeling. It is completely pain-free and does not require the use of any numbing cream or anesthetic.  Most people need four to six Exilis Elite treatments to see results. However, this number still depends on the target area, skin condition, age, and desired outcomes. Each area takes about 15 to 30 minutes per session.  The good news is that you can immediately go back to your daily activities after the procedure.  It takes a minimum of 90 days after the treatment for your body to produce collagen. The outcomes depend on each area and its condition. For some clients, a single session is enough to see visible results.  There are no side effects aside from temporary and very mild tingling sensation, slight redness, or warm skin. Still, these are minimal and subsides within 20 minutes or so. Consult a doctor before getting this treatment if you're pregnant, have deep scars, or use a pacemaker.
Collagen Regeneration Facial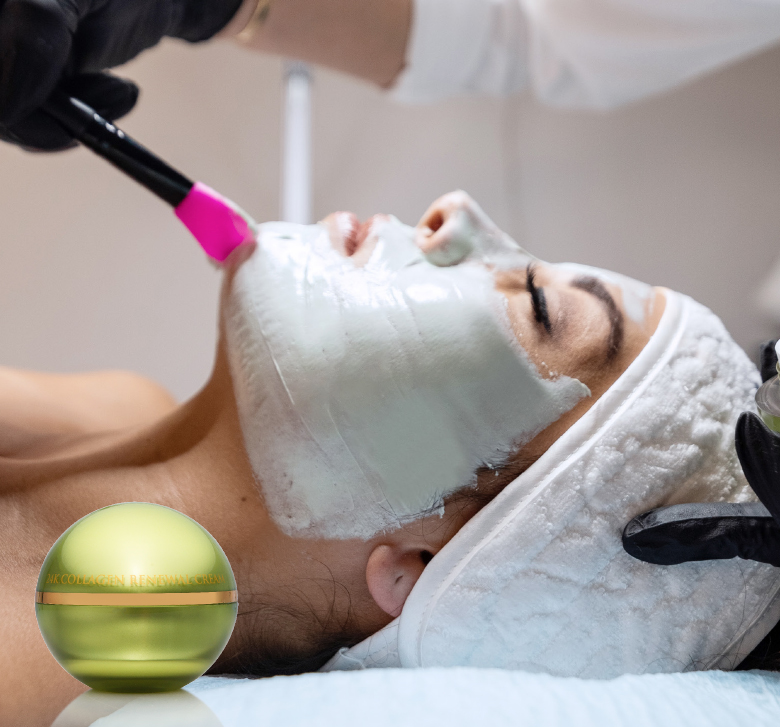 Want more collagen boosters? Introlift's got you with our Collagen Regeneration Facial. This treatment not only counters thin skin around eyes but also makes the skin more volumized, firm, energized, glowing, and smooth. Why the need for collagen facials? Collagen facials affect collagen production in the skin's deep layers. They are far more effective than collagen creams which only make changes on the skin's surface.  Collagen creams moisturize and freshen the skin, but unfortunately, they do not delay the aging process. Introlift's Collagen Regeneration Facial counters collagen loss in multiple ways. It utilizes a combination of a light chemical peel, radiofrequency, and LED therapy to give you great results. We also infused seaweed into its formula to further boost your collagen replenishment!
Vitamin C Signature Facial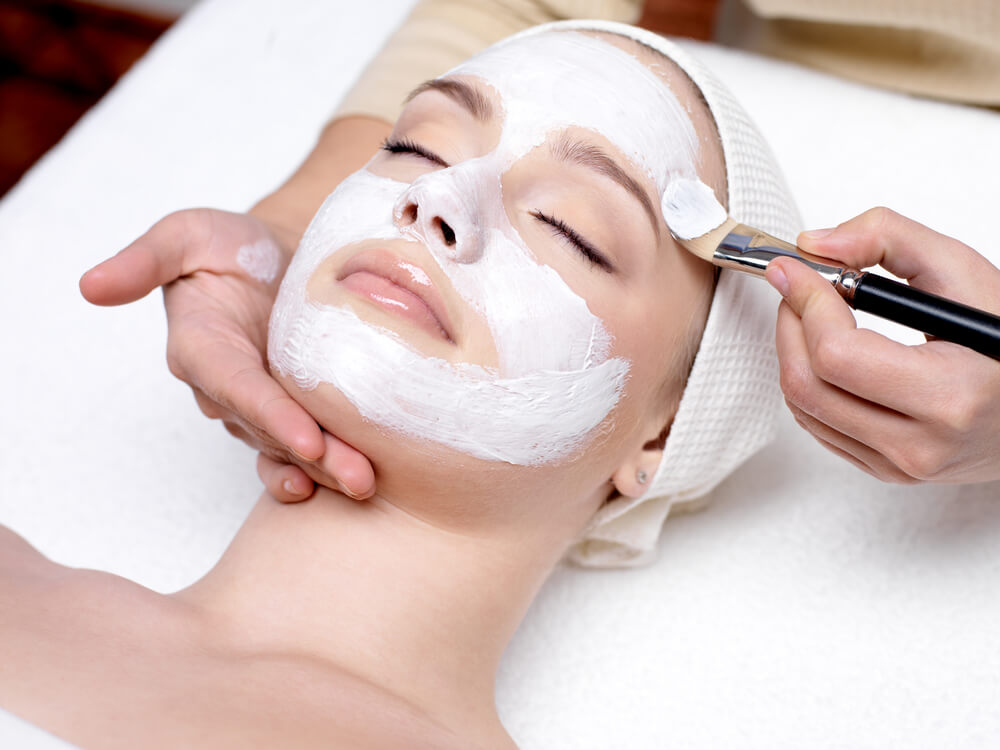 Prevent thin skin around eyes while making it radiant, fresh, and bright with Introlift's Vitamin C Signature Facial! It reduces the appearance of fine lines, dark spots, and puffy-looking eyes!  We combined different treatments in this facial, such as a:
Detoxifying therapeutic mask
Light chemical peel
Radiofrequency skin tightening
Advanced LED therapy
The best part?  We customize our formula according to your skin's needs! You'll find that what makes this treatment stand out is its start ingredients, vitamin C and retinyl palmitate! Let's discover how these staple skincare ingredients can thicken the thin skin around eyes.
Vitamin C
Many experts include vitamin C derivatives in skincare products because of their benefits.  Vitamin C is essential in collagen synthesis along with amino acids, zinc, and copper. Skin fibroblasts also depend on vitamin C in balancing out collagen and elastin in the dermis. In addition, vitamin C has antioxidant properties, protecting your cells against free radical damage. Skin keratinocytes benefit from high vitamin C concentrations, which protect you from UV irradiation along with vitamin E. Moreover, vitamin C helps wounds to heal and minimizes the formation of raised scars. There's more: Vitamin C can even out pigmentation and decrease excess melanin production! It's a go-to vitamin if you want to have bright skin. The body does not produce vitamin C, but you can get it through your diet, supplements, and treatments such as Introlift's Vitamin C Signature Facial. It's a remedy for the thin skin around eyes and signs of skin aging!
Retinyl Palmitate
Let's move on to another powerful ingredient in the Introlift Vitamin C Signature Facial: retinyl palmitate!  It is a vitamin A derivative that is less potent than retinol. Retinyl palmitate gained its fame as one of the most studied anti-aging ingredients, and for good reasons. It boosts the body's collagen levels by inhibiting enzymes that break down collagen. As a result, it also reduces the appearance of wrinkles and fine lines. The best thing about retinyl palmitate? It also boasts antioxidant properties! It can protect your skin from sun damage, therefore preventing thin skin around eyes.  If those are not enough for you, vitamin A also reduces eye puffiness and crow's feet!
Turn Back Time Eye Package
To reward you for getting this far in the article, we're letting you in on a secret: Introlift has a package specifically designed for the eyes.  We call it the Turn Back Time Package. It combines Exilis Elite with other amazing facial procedures! Here are some exciting additions to this package:
Botox
Through this package, you can opt to have Botox or Dysport around your eyes. It is a remedy that needs no introduction to skincare enthusiasts. This quick and effective procedure can counter facial lines and wrinkles by relaxing underlying facial muscles. The injectable agent is a derivative from a bacterium-produced neuromuscular toxin called botulinum toxin type A. Botox can smoothen your forehead, the areas between the brows, sides of your eyes, and jaw.
Under-Eye Fillers
The hollowness underneath the eyes is due to natural collagen and elastin loss.  Good thing there are fillers to restore the volume and fullness of your face, preventing a hollow look. In addition to plumping the skin back up, they also diminish dark circles, eye bags, wrinkles, and fine lines.
Microneedling
Microneedling is famous for its ability to treat a wide range of skin conditions such as hyperpigmentation, acne scars, enlarged pores, and wrinkles.  This procedure requires a topical anesthetic to numb the targeted area. A pen-like tool will create micro-punctures, and a pure hyaluronic acid serum will keep the skin hydrated. The process results in the stimulation of collagen and elastin production. It might sound scary, but no need to worry. It is pain-free and only has minimal downtime! There's more: When you avail of the Introlift Turn Back Time Package, you'll also get eyelash and eyebrow tints and a special gift containing OROGOLD's Eye Cream and Eye Serum!  This set is the complete eye regimen you're looking for!
Say Goodbye to Thin Skin Around Eyes with Introlift
It's time to counter thin skin around eyes and avoid further damage! Choose any one of our five facial treatments for plumper, younger-looking under-eye areas. Our experts at Introlift will make sure that you get the best results most comfortably. For more information, you can contact our Plantation, Florida clinic at 754-218-5290. To make things more convenient, you can also request an appointment online! We look forward to being your partner in your beauty journey!