SUBSCRIBE FOR
PROMOTIONS & GIVEAWAYS
INTROLIFT RF BODY SCULPTING
Introlift RF Body Sculpting is a clinically proven, non-surgical solution to contour areas of the body that are resistant to weight loss through diet and exercise. This treatment can be used to treat excess pockets of fat on the stomach, hips and thighs, reduce cellulite and tighten saggy skin caused by weight loss or pregnancy. The treatment is very safe and has minimal downtime.
LASER SKIN REJUVENATION
Laser Skin Rejuvenation is a powerful treatment used to stimulate collagen production and reduce the appearance of dark spots and acne scars. Performed with the Q-Switched laser, this treatment avoids damage to the surrounding tissue and other unwanted side effects. Take this as a quick, effective and multi-purposed medical facial!
SCLEROTHERAPY
Sclerotherapy is a minimally invasive procedure used to treat varicose veins and spider veins. This treatment is purely cosmetic and is primarily performed to help reduce the appearance of spider veins and small varicose veins but can also help improve related symptoms like aching, swelling and burning.
BTL VANQUISH
BTL Vanquish™ is an non-surgical technology for permanent fat reduction that targets the abdomen, flanks, upper back, and thighs. Many patients lose up to 2-4 Inches from the waistline in only 1 protocol treatment! With no risk of unevenness, discomfort, downtime or side effects, this is the ideal solution for body contouring.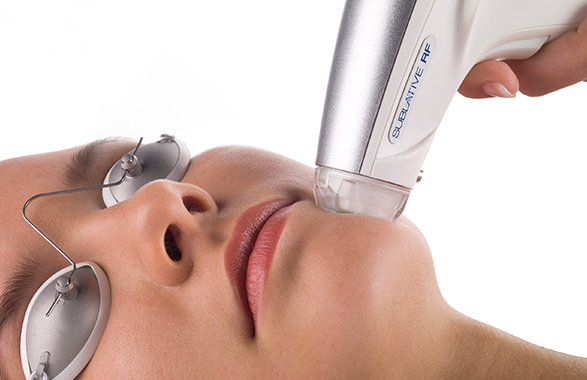 EMATRIX™ SUBLATIVE
REJUVENATION
eMatrix™ Sublative Rejuvenation is an FDA-cleared treatment that gently resurfaces the skin. It tightens loose skin and improve the appearance of wrinkles by expediting the production of collagen. It will improve the texture of the skin and signs of skin imperfections such as acne scars, dark spots and even marks. You can expect a bright, smooth and healthy looking skin noticeable within only 5 days after the treatment, it's the ultimate solution for pigmentation and blemishes.
PRP+ACELL MICRONEEDLING
FOR HAIR LOSS
Up to 80% of white males & 40% of women develop hair loss with age. Androgenic alopecia is the most common type of hair loss. Until recently, the only effective treatments were drugs such as minoxidil and finasteride, or hair transplants. Scientific studies done in recent years have shown that injecting platelet-rich plasma (PRP) has a beneficial effect in inducing regrowth in androgenic alopecia hair loss.
LASER HAIR REMOVAL
LASER HAIR REMOVAL
Introlift brings you the most effective and advanced hair removal solutions available in the industry. By combining the benefits of the Alexandrite wavelength with the advantages of a diode laser, our three wavelengths Alex 755nm , 810nm, & YAG 1064nm laser offers the most cutting-edge in hair removal technology and treatment methods. Multiple modes offer multiple treatments to accommodate the varying needs of our patients.