Those in search of truly effective fat reduction treatments need to look no further than the Introlift Medical Spa.
Why?
Thanks to the industry's most cutting-edge technologies performed right here by our highly dedicated and experienced team, you'll receive truly visible aesthetic results in a first-class environment with minimal to no downtime.
From weight loss and body sculpting to the reduction of loose skin and cellulite, whatever your concern areas are, we're here to address them, allowing you to finally realize your body goals!
Why Choose the Introlift Medical Spa?
One of the many reasons customers leave our spa so happy is thanks to our incredibly talented team of professionals. Each and every member of the team is not only highly experienced but also truly passionate about providing expert care and results to every individual. 
In addition to our passion and expert knowledge of the beauty industry, we are committed to achieving consistently natural-looking results for all that choose our services. Customized programs are available as well as convenient financing for our clients too.
What Treatments Can I expect To Find at the Introlift Medical Spa?
When it comes to the industry's most effective body treatments, the Introlift Medical Spa prides itself on providing the very best for our customers. Therefore, no matter your body concern, it's more than likely you'll find a program to suit your needs and deliver the results you desire. 
Below, we have listed a few of our most popular and incredibly effective treatments aimed at altering the physical appearance, as well as the feel of your body. Whether you're hoping to shed weight, tighten up loose skin, reduce the appearance of stubborn cellulite, or simply want to tweak the shape of your silhouette, these leading treatments are certain to deliver the results you've been looking for.
Exilis
Heard of Exilis but wondered if it's for you?
You're in the right place…
If you've ever wished certain areas of your body were tighter and more defined but have had little success getting there on your own through exercise and diet, there's a good chance that Exilis may be just what you've been looking for! This contouring treatment is highly effective and can work to reduce a range of concerns you may have.
For example, those battling with sagging skin will find their skin feels tighter post-treatment. Additionally, those with stubborn fatty areas (the ones that won't seem to budge no matter how much you target them with exercise!) will find they finally see movement and improvement.
What's more, if wrinkles, fine lines, or even cellulite are the reason you're seeking a body sculpting alternative, you'll certainly want to read on and find out more about how Exilis can help.
What is Exilis and How Does it Work?
As we mentioned, Exilis is a treatment designed to improve the appearance of wrinkles, fatty deposits, sagging, and cellulite and it does so through the use of FDA-approved, monopolar radio frequencies. 
This radio frequency works by heating the deeper layers of your skin whilst cooling at the surface to provide comfort throughout your treatment. This action safely and effectively reduces fat naturally stored there by overheating the surrounding fat cells. This eventually causes them to die.
Once this has happened, these dead fat cells are naturally expelled through the lymphatic system.
In addition to banishing fatty deposits, the heat produced during treatment stimulates collagen production which also works to tighten the skin, reduce lines, and restore a youthful complexion and glow.
Is Exilis Like Liposuction?
The short answer?
No.
Aside from the fact that Exilis reduces fatty deposits, it is rather unlike liposuction. This treatment is not in any way invasive. Nor does it cause physical discomfort or require any downtime following your treatment. Therefore, it has become widely preferable for so many seeking aft reduction alternatives. 
It means there is no need to arrange for rest and recuperation following your procedure saving time, plus, it's not at all painful meaning there's no issue or concern for pain before or after either. 
The only reported side effect of this treatment is a mild tingling sensation and mild redness over the treated area. This is very temporary however and should subside completely within 20 minutes or so.
Which Areas of the Body Can Benefit From an Exilis Treatment? 
The fact that Exilis is non-invasive and therefore extremely safe means it can be used on pretty much every area of the body. It should be noted however that Exilis is not a weight loss solution, instead, it sculpts the body and smoothes out the skin dramatically.
From head to toe, Exilis can swiftly reduce even loose skin and cellulite delivering sculpted results simultaneously for the face, neck, decollete, back, buttocks, abdomen, legs, arms, and hands.
How Long Does Exilis Last?
Provided you practice a healthy diet and regular exercise to maintain your current weight and fitness levels, you can expect your treatment results to last up to two years! These incredible, long term results are another of the many reasons so many decide to choose this treatment method over those that require significant downtime and surgery.
Is Exilis Treatment Right For Me And When Can Results Be Expected?
The results of Exilis, like most cosmetic treatments, will vary and differ from person to person. That said, if you are a candidate (as most adults who are not pregnant and have minor areas of stubborn fatty deposits and sagging skin are) you're likely to notice the most significant results around 90 days after your treatment.
This is about how long it takes for your body to begin producing new collagen. However, it will depend on the area of your body that has been treated as some notice changes after just one treatment.
Vanquish
Moving on to a treatment designed to combat actual fat reduction rather than sculpting the body alone. Vanquish is the only FDA approved device designed to eliminate fat cells from the body with zero pain or downtime.
Who is a Candidate?
The beauty of Vanquish?
Most healthy adults are candidates!
Provided there are no underlying health conditions that may prevent treatment, pretty much all adults are candidates for Vanquish treatments. Additionally, unlike other weight loss methods, Vanquish does not require clients to have a body mass index over 30, meaning it's available to a much wider range of people.
What's the Difference Between Vanquish and Exilis?
Whilst Exilis can indeed be used on are of the body including those that Vanquish targets, Vanquish is a higher intensity treatment aimed at targeting bigger surface areas. What's more, Vanquish will expel large amounts of fat from the body, resulting in weight loss and reducing inches rather than sculpting and mild fat reduction, as Exilis offers.
Which Areas of the Body Can Be Treatment With Vanquish?
Vanquish, as we know, is used to treat and significantly reduce fatty cells on larger surface areas than other treatments can. These areas include the stomach, the hips, and the thighs. Some will choose to treat just one of these areas to address a specific concern. Others may wish to treat all three to achieve a slimmer and more toned look overall.
Is Vanquish Painful and How Long Does it Last?
One of the most asked questions about this treatment, given its significant results, is whether or not it's painful. Happily, we can tell you Vanquish is not at all painful.
Why?
It's simple really!
Once again, it is non-invasive and, unlike surgery, uses intense heat to break down and kill fatty deposits under the skin. These dead cells are then washed out through the lymphatic system meaning no pain afterward, and no need for resting up following any of your appointments.
Additionally, all you'll feel during the treatment is a slight warming sensation on the area being treated. Many liken this to the feeling of a heating pad. This will subside very quickly afterward and for the majority is barely even noticeable if present at all.
In terms of time, each session is split into two parts to effectively target the desired areas. For thighs, you can expect treatments to last around 30 minutes. Abdominal areas take a little longer but are still relatively short at around 45 minutes per session.
How Many Inches Will I Lose With Vanquish?
Think you'll barely notice a difference?
We think you'll be pleasantly surprised!
Of course, results will always vary depending on the client and the area being treated. With this in mind, however, many have been known to lose up to 4 inches from their waistline after only 4 treatments.
That said, weight loss can be noticeable for many from the first treatment. For most, an amazing 2-4 inches loss is usually expected!
What are the Effects of Vanquish and are They Permanent?
As we know, Vanquish is recommended primarily for its effective removal of stubborn fatty deposits on the abdomen, hips, and thighs (which are not removable through an individual's diet adjustments or exercise regime).
But, alongside this significant benefit, your vanquish treatment will also tighten the skin resulting in a more youthful, fresher appearance to your skin overall.
Now, how long will these effects last?
That's the really great part!
As these fat cells are destroyed rather than merely suppressed, the results of your Vanquish treatment are permanent!
How Should I Look After Myself Before and After Treatment?
As Vanquish kills fat cells that will soon be flushed out through the lymphatic system, it is recommended that you be very well hydrated before your treatment. Additionally, hydration afterward is also very important. This will aid the body's natural removal of the dead fat cells more quickly and effectively.
To ensure you get the most from the results of your treatment, you'll also want to maintain regular exercise and a healthy diet. This will prevent unwanted fat cells from forming again leaving the results of your treatment permanently on display!
How Many Vanquish Treatments are Recommended?
Something we at the Introlift Medical Spa pride ourselves on is first-class client services and programs tailored to the specific needs of each individual client. 
Therefore, on your first visit to us, a free consultation will be provided. From here, an individual protocol treatment plan will be designed just for you to specifically address your concern areas. This will make sure you get the absolute most out of your treatments!
The majority of patients will have 4 treatments and these will be carried out one week apart from each other. However, this can, of course, be altered depending on your time frame needs, and desired outcome.
Body Sculpting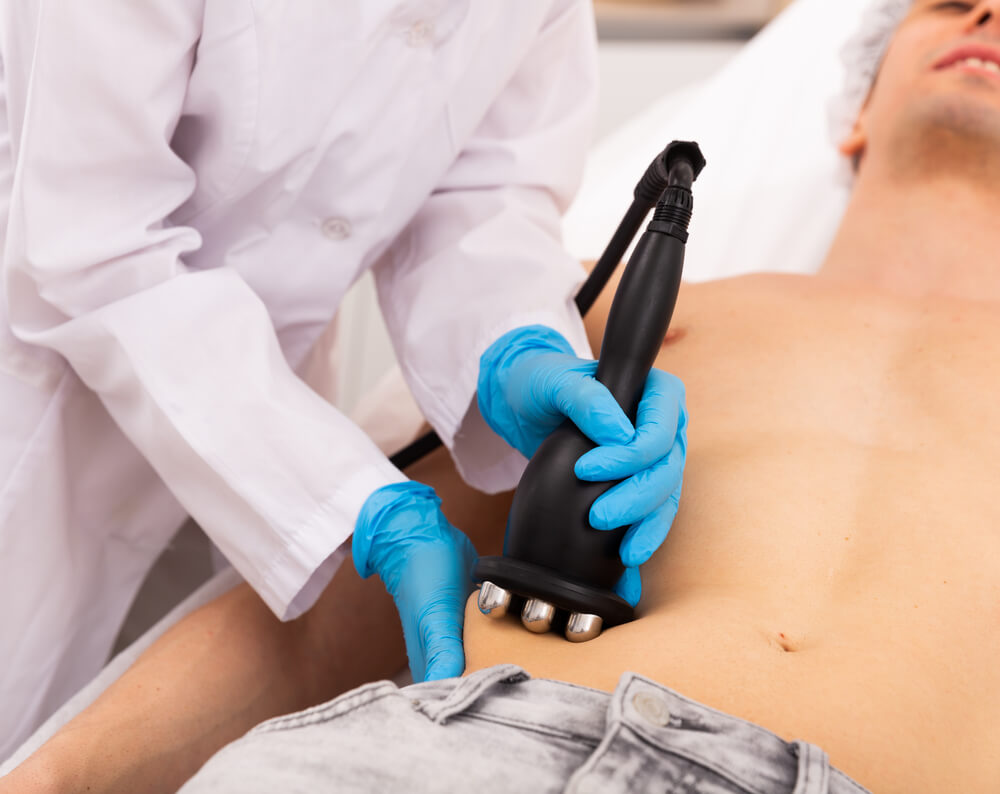 Whether you're tired of stubborn fatty areas, loose skin, or cellulite, there's a good chance Introlift RF Body Sculpting could be just what you're looking for. 
What is Body Sculpting Used to Treat?
Alongside pockets of fat that won't seem to budge, this non-surgical procedure is the perfect way to reduce cellulite and to tighten loose skin. Some will experience this after weight loss, others may find they have an excess after pregnancy. Whichever is true for you, this treatment is very safe and requires, similar to Exilis and Vanquish, minimal downtime.
What Makes This Treatment Special?
Unlike some other fat, loose skin, and cellulite reducing treatments, RF Body Sculpting uses, as you may have guessed from the name, Radiofrequency to do its job. What's more, this is combined with massage rollers, infrared, and vacuum technology.
This practice heats up the fat cells ready to kill and expel them whilst it also promotes and boosts blood flow through the targeted areas. This will, in turn, break down cellulite as well as fat, and tighten your concern areas resulting in a more toned and smooth appearance.
How?
We're glad you asked!
This is another treatment that stimulates collagen production meaning the elasticity of your skin is vastly improved alongside its texture. It's also important to note that this treatment, like Exilis, is a fat reduction treatment rather than a fat elimination treatment like Vanquish is.
Which Areas of the Body Will Benefit from RF Body Sculpting?
Recommended areas for body sculpting treatment include the abdomen, buttocks, legs, arms, and even the face. It's a particularly effective anti-cellulite treatment also so those unable to reduce theirs naturally will truly benefit. It's also recommended for those undergoing liposuction treatment.
Why?
It can help out before and after!
Before receiving your liposuction procedure, it's a great idea to begin with elasticity in the skin. This will reduce loose skin and make for a smoother result. What's more, if you've already received your liposuction treatment, body sculpting can help to smooth out the skin in areas that appear newly loose or without elasticity.
How Long Does the Procedure Last and When Will I See Results?
It's really the best of both worlds as body sculpting treatments are quick lasting only up to two hours. Depending on the areas to be treated, however, some can be as quick as 20 minutes!
In terms of results, you can expect to see a visible reduction in cellulite, loose skin, and inches as quickly as four weeks after treatment.