INSTANT BODY SLIMMING – ONE AREA
Single Price: $300 $54
No downtime!!
Virtually painless
We're located at:
100 NW 82nd Ave #104
Plantation FL 33324
Tel: (754) 218-5290
What is the VelaShape® Body Sculpting Treatment?
VelaShape® is a non-invasive body shaping treatment that involves the use of a radiofrequency (RF) energy device to heat up the fat and tighten tissue to boost blood flow and break down cellulite and fat. The radiofrequency energy heats the skin without damaging it, in order to break down fatty cells and stimulate collagen production, which improves skin tone and elasticity. VelaShape® can be used to treat excess pockets of fat on the stomach, hips and thighs, reduce cellulite and tighten saggy skin caused by weight loss or pregnancy. The treatment is very safe and has minimal downtime.
TREATMENT BENEFITS:
Safe & Non-invasive

​No physical downtime

Fast results

No discomfort

Reduces cellulite
Firms & tightens skin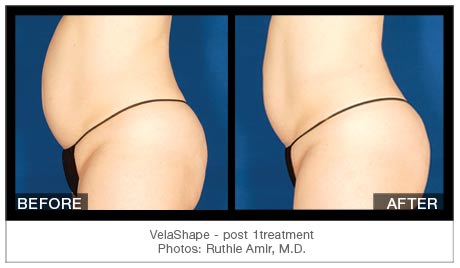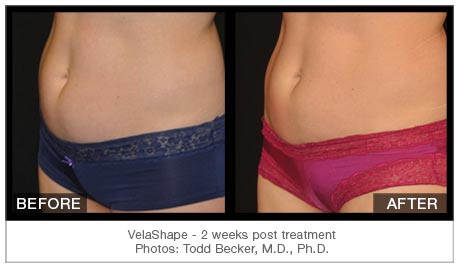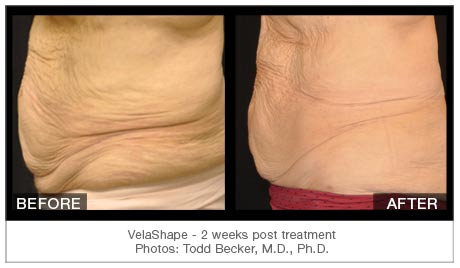 I tried CoolSculpting and was not impressed. I was reluctant to spend more money and try VelaShape. Wow! So glad I did! I am beyond thrilled. Just one month after my last treatment (I had four), I can see the outline of my abs in the mirror and my bikini fits nicely. All of my clothes fit much better. I couldn't be happier.
I'm fit & exercise regularly. I've done marathons and do yoga AND I eat really healthy. But still I didn't have the stomach I wanted. Procedure is painless. In fact I took naps through each. After 3 treatments, I have the tummy I deserve.
Didn't want surgery and had tried to lose weight but never seemed to lose around the waist. The procedure was actually enjoyable and very comfortable. Very important to drink lots of water to ensure the cells are hydrated. Each treatment took 1 hour with a focus on the bottom love handles for 45 minutes and 15 minutes on the upper stomach area.
FAQS
Q: How is VelaShape different from Liposuction?
A: Liposuction is a cosmetic surgical procedure in which fat gets removed from the body using a hollow instrument and a high pressure vacuum that sucks out the fat from desired body parts. Since Lipsuction is a surgery there is a 6 week period of recovery. On the other hand, VelaShape is a non-invasive procedure designed to reduce the appearance of cellulite, stubborn fat, loose sagging skin and water retention. Keep in mind the most important difference aside from physical surgery is VelaShape targets cellulite and fat whereas Liposuction only targets the mid level area of fat.
Q: How many treatments do I need to see results?
A: Ideally, VelaShape treatments start twice a week. It may take up to 10 treatments to see any noticeable results.
Q: Will I experience any pain or discomfort during the procedure?
A: The intensity of the machine used for a VelaShape is usually adjusted to the comfort and pain level of the user. The sensation caused the machine is very pleasant often ending with users falling asleep during their treatment.
We're located at: 100 NW 82nd Ave #104 Plantation FL 33324
Tel: (754) 218-5290
About Introlift Med Spa
Introlift Medical Spa is the number one choice for advanced aesthetic treatments. We offer the best treatments for visible results with minimum downtime. We pride ourselves in offering unparalleled customer care and customized treatment programs to best meet the goals of our clients.